By, Derek Clendening
Greg Lamberson and I have been acquainted through message boards for years, and we live just fifteen minutes apart, yet we'd never met until we sat down for lunch. I knew he was responsible for films such as Slime City, but I didn't realize his literary potential until I read the cover blurb for his forthcoming Medallion mass market paperback Johnny Gruesome. I decided it was a book that I simply must read. Once I picked up some more info on his first novel Personal Demons, and his forthcoming non-fiction book Cheap Scares, I knew Lamberson was an author whose brain I wanted to pick.
I made the first move by contacting him for an interview and, when he graciously accepted, we set up the where and when. We agreed to meet at Buffalo's landmark tavern, The Anchor Bar, inventors of the original Buffalo wing, to chat about Johnny, his extensive resume, and his future.
When Lamberson's Nissan pulled up next to my Intrepid outside of the Main street establishment, he greeted me with a Johnny Gruesome poster and a bumper sticker that reads "Johnny Gruesome, Zombie President '08." Heading into the bar, our conversation started casually since I was curious to know why a filmmaker felt compelled to join the literary brand of horror. Opening the door, he started with his upbringing in Fredonia, New York. His mother didn't have a car and he didn't see as many films as he would've liked to. "I ended up doing a lot of reading instead," he says.
Our server seated us in a room adjacent to the bar area, where Lamberson noted that he was heavily influenced by Ghost Story and 'Salem's Lot, but he added that movies were still very special to him. He remembers that "HBO was new when I was just starting high school, so I could see movies like Carrie and The Omen that I wouldn't have seen otherwise."
Like most writers, Lamberson was a voracious reader, which enabled his switch to literary writing. His life in New York City afforded him a wealth of time to read. "When you're taking the subway every day, an hour and a half each way, you get a lot of reading done," he says. "I made a conscious decision when I moved to Buffalo, after twenty years in New York, to try something different. I said to myself: the filmmaking thing isn't happening, I have three unsold screenplays, and tons of ideas I've worked really hard on so I'm going to turn them into novels."
When our server arrived with a Diet Pepsi for each of us, I decided to get down to business and I asked him what inspired Johnny Gruesome. Location was significant for him, as he recalled his roots in Fredonia. "The blizzards of '76 and '77 were very big events in my life because there was no school for two months. I lived in a ranch house and there was a snow drift that was almost as wide as the house, but smaller than the house."
Peter Straub's Ghost Story, which is set in Western New York, continued to inspire him, as Straub so perfectly described the area where Lamberson lived.
"Ghost Story was made into a movie," he continues, "and it was one of the few horror movies that I did see while I was in high school, but they cut out this huge subplot involving two teenagers. I thought they should take the material they cut out and make a sequel of it one day."
Straub's Ghost Story wasn't the only inspiration for Johnny's story, since Lamberson was also inspired by a movie poster he found while managing a theatre in New York. The poster depicted a juvenile delinquent holding a knife to the throat of a fellow teenager, with a buxom blonde watching. He tacked the poster on his wall and pondered the story behind the image.
Returning to Fredonia after several months, determined to hammer out a screenplay, Lamberson was greeted by Western New York's cruel winter. When he moved to Buffalo five years ago, he began thinking about his favorite teenage zombie again.
In Johnny Gruesome, a murdered heavy metal teenager becomes a vengeance-crazed zombie, and it was the
commercially-viable novel he wanted to write. Shaking Johnny from his mind was impossible. "I knew I had to get this out of the way, one way or another."
Still, transplanting Johnny from his screenplay format to the novel form came with its share of challenges. Lamberson explains, "When I decided to turn this into a book and it was twenty years later, something that made me hesitate was asking 'How do I make this story about teenagers relevant and interesting to me now?'"
Deciding that he didn't want to write a period piece, he chose to embrace the influence of Marvel Comics and the 80's horror films that Johnny's story is supposed to be about. Lamberson adds that, "with the cover art that Zach McCain did for Bad Moon Books' Limited Edition of Johnny, no one could look at this and say 'this is literary dark fiction' and be disappointed. Everyone would know what it's supposed to be and so the people it's meant for will read it."
When our server returned with a double order of hot wings, with celery and bleu cheese for each of us, I decided to switch gears and concentrate on his non-fiction work. His book, Cheap Scares, to be published by McFarland and Company later this year, is a how-to for the low-budget horror film rookie.
Cheap Scares, in which he offers advice on screenwriting and the business and other useful tidbits, is based fifty percent on Lamberson's own filmmaking experiences. But he's quick to add, "I wanted the book to be more than the ranting of a person who's only made three low-budget horror films."
When he notes that the second half of the book is comprised of in-depth interviews with other low-budget film veterans, I became curious about how he chose who to include. Dipping a wing in his bleu cheese, he explains. "About half of the people I chose are people that I know, either from working on films, distribution, or just from going to conventions. Larry Fessenden is someone I know from New York and I really wanted a smart filmmaker in there. Bret Piper is someone I don't know. Scooter McCrae, who did Shatter Dead, has a lot of the same friends I do, but we've never met." He adds, "It was interesting seeing his film and being blown away by it then talking to him on the phone for three hours. All of my interviews for that book were just as long and I had to cut them by fifty percent."
Enjoying our wings, I asked him how the experiences of other filmmakers have differed from his own. He took a moment to ponder then he told me that age comes into play. Noting that, although Bret Piper isn't much older than others in the book, he says that he's old enough not to have experimented with a Super-8 camera when he was young. "So, he dropped out of high school," Lamberson says, "then he went into construction, and because of that he says he has a very blue collar mentality." Larry Fessenden, by contrast, comes from a wealthy family and has a more "bohemian artist" outlook on filmmaking, according to Lamberson.
Lamberson notes that Cheap Scares is comprised of more than just filmmakers, as it includes a distributor, marketing people, and an entertainment attorney. "There's definitely a broad scope," he says of the diversity of filmmaking talent sharing their expertise in the book. "I wanted to make sure the book would be interesting, but I also wanted the target audience to really get something out of it."
Overall, Cheap Scares emphasizes storytelling and marketing - which, according to Lamberson, is where many aspiring filmmakers fail. He adds that the book is a comprehensive tool for anyone wanting to write, direct or produce a low-budget horror film.
After Lamberson had mentioned his first novel, Personal Demons, which was originally published by Broken Umbrella Press, I meant to ask him why he chose religious-themed horror. Wrapping up our interview, I decided to chase after the answer. He told me that he doesn't consider Personal Demons to be a religious-themed novel, at least not in the Judeo-Christian sense. "It's not dogmatic," he says. "Two themes in the novel are religious fanaticism and scientific fanaticism. It's got multiple villains: one is a billionaire doing scientific research, another is an angel, and the other is a demon, and they're all after the same thing, like in The Maltese Falcon."
For Lamberson, illustrating how religion can be abused was important, particularly in the wake of 9/11. Noting that he isn't religious, he says he supports stem cell research and other scientific possibilities for healing, adding "I'm waiting for the day America believes in science again."
To him, the book is much more film noir in horror and crime drama with some science and religion. He says it's "a real hodgepodge, kitchen sink approach." He hoped to tap into the pacing of the television show 24. In this sense, he feels that Personal Demons differs from Edward Lee and Michael Laimo's religious-themed novels, which emphasize Judeo-Christian mythology.
Though Personal Demons is Lamberson's proudest achievement, he was frustrated at being unable to take his novel to the next level. He took out full page ads in Fangoria and Rue Morgue, knowing he wouldn't recoup the money he spent. "I considered it a worthwhile investment at the time because it was a tax write-off and it helped me make a lot of sales at conventions." Then he adds, "I wouldn't recommend small press authors spending money on advertising, but it worked according to my plan."
Lamberson will have a second chance to take Personal Demons to the next level as it will be published as a mass market paperback for the first time by Medallion in 2009.
Polishing up our wings, our server brought us our bill, and I decided to ask some random questions about zombies and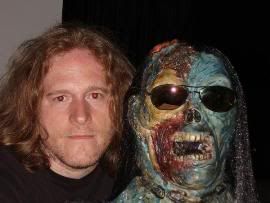 FearZone.com. Concerning the zombie sub-genre, I was anxious to get his thoughts on its viability in today's publishing climate. Lamberson says that he doesn't consider the sub-genre dead, and that it even shows strength in some areas. "Permuted Press seems to be doing very well with it," he says. "As long as it doesn't degenerate into the crappy romantic stuff that happened with vampires, it should be fine - I don't see that happening."
Adding that most contemporary zombie novels are spin-offs of what Romero did in the movies, he says that he would like to see new interpretations of zombies, apart from the "shoot 'em in the brain, flesh-eater" living dead. "If you can't do Romero better than Romero, why try?"
Asking him about his gig a FearZone.com, Lamberson mentions that he was the only candidate, out of 750 applicants, to be considered for the editor-in-chief position. For him, it's the perfect part-time job for a stay-at-home dad. "Very often I've been conveniently been laid off from a job or have quit to make a movie, and there was always something out there that was just right for me, that utilized my vast wealth of otherwise useless knowledge."
Noting that he'd hit a point where he and his wife had run out of money, he says that he received an e-mail from a friend in New York City who had the inside scoop on a new horror website. Even though they were looking for someone from New York, he decided to apply for the position anyway. He says, "It's a good situation because I can do it from home and it is decent money for the amount of time I put in."
He wanted FearZone.com to be more than just a horror movie site, and he has turned it into so much more. The site offers feature interviews, book reviews, and video game reviews with literary tie-ins.
Stopping in the parking lot, Lamberson fills me in on his hectic upcoming schedule. Medallion is flying him to Los Angeles for Book Expo America, where he will be doing several book signings. Returning east, he will be appearing at Fangoria's Weekend of Horrors in Secaucus, New Jersey. From there, he will move north to Toronto for Rue Morgue's Festival of Fear ahead of Johnny's October paperback publication.
For Lamberson, it isn't just the comp trip to L. A. that has satisfied him, but it's also the faith that his publisher has entrusted in him. "It's nice that someone else is doing the pushing, not me," he says, "and it's evidence that they really believe in the book."
For more about Greg Lamberson, check out his author website or stop by his MySpace page.
Read DSM's review of Johnny Gruesome.
Posted
on Monday, May 26, 2008 at 07:56AM
by

Dark Scribe Magazine
in Authors
|

Post a Comment