By, Blu Gilliand
Gary Braunbeck is the author of 20 books and over 200 short stories in the horror, thriller, science fiction and mystery genres. His work has garnered several Bram Stoker awards and an International Horror Guild Award for Long Fiction. As
an editor, Gary completed the last installment of the popular Masques anthology series created by Jerry Williamson, and recently acted as co-editor (along with Hank Schwaeble) of the Bram Stoker Award-winning anthology Five Strokes to Midnight.
Much of Gary's fiction takes place in the fictional town of Cedar Hill, Ohio, a blue collar, working
class town full of terrible forces and dark secrets. In this exclusive interview with Dark Scribe Magazine, Gary talks about the origins of Cedar Hill, the work that goes into creating such a rich, complex mythology, and whether or not he is ready to bring it all to an end.
Dark Scribe Magazine: What was the first Cedar Hill story? At the time, did you know it was a " Cedar Hill " story?
Gary Braunbeck: That would be "A Death in the Day Of," which originally appeared in The Horror Show. At the time, I knew it was set in a fictional town in central Ohio, but had not yet named it; the first story in which I actually named Cedar Hill was the novella "To His Children in Darkness," which originally appeared in the J.N. Williamson Special issue of Cemetery Dance.
Dark Scribe: Did you set out to create this whole Cedar Hill mythology, or did it evolve over time?
Gary Braunbeck: Cedar Hill started out as simply a place to set my stories. Most of my stuff focuses on mid- to lower-
middle-class blue collar characters because those are the folks I grew up around and with. But over time, as I did more research into the history of Newark, Ohio (the city where I grew up, and on which most of Cedar Hill is based), I discovered a lot of legends and myths that had been all but forgotten by everyone except a few local historians (most of whom are now no longer with us, dammit, because man, did they have stories to tell me!). It seemed a shame to me that such rich, creepy, tragic legends should be forgotten, so I began incorporating a few of them into the fictional Cedar Hill. As soon as I began doing this, a greater, more complex history of the town began revealing itself to me. That was, believe it or not, a tremendous surprise, and a serious shot in the arm to my imagination.
It always seemed to me that if a writer is going to create a fictional universe in which to set most of their stories, then he or she needed to dive in head-first and drown him- or herself in the place. I mean, look at what Charles de Lint has accomplished with his Newford stories; damn near everything he's written has been set there, and tends to focus on a central cast of characters, and with every new Newford story or novel, he reveals something more about the place and its people.
That's what I am attempting to accomplish with the Cedar Hill stories: creating a complete, whole, rich, ever-unfolding universe as seen through the eyes of a central cast of characters.
Dark Scribe: How did you go about building Cedar Hill, the town?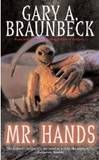 Gary Braunbeck: As I said before, a majority of it is based on the Newark, Ohio, I knew while growing up and through my teenage years, but some of it is also based on Dayton, Ohio, and my current home, Columbus. But the heaviest portion of its influence is definitely Newark.
Dark Scribe: Were you influenced by other authors who have connected their stories through a common location and characters, such as Stephen King with his Castle Rock stories?
Gary Braunbeck: Yes and no. Writers such as King, Ray Bradbury, and the dearly-missed Charles Grant all had their fictional towns, and their creations were unquestionably a consideration and influence when I finally decided to try my hand at it, but they were not the first writers to do this; I was also strongly influenced by Sherwood Anderson's Winesburg, Ohio and the phenomenal John O'Hara's Gibbsville, PA stories. For my money, Anderson and O'Hara wrote the template for this type of series/story cycle.
Dark Scribe: Do you keep a detailed chronology or history of Cedar Hill to refer to when writing?
Gary Braunbeck: I keep one now – I started keeping one about twelve years ago, when characters from Story A started showing up in Story H and so on. The chronology and mythology of Cedar Hill has now very much taken on a life of its own, and sometimes the town's secrets and those of many of its inhabitants sneak up and surprise even me.
I did not keep this chronology at the start because, twenty-odd years ago when I wrote "A Death in the Day Of," I didn't know that I was going to devote half of my life (thus far) to creating and maintaining this town. That's why, with the Cedar Hill collections from Earthling Publications (Graveyard People: The Collected Cedar Hill Stories Vol. 1 and Home Before Dark: The Collected Cedar Hill Stories Vol. 2), I have been revising and in some cases massively re-writing past Cedar Hill stories so that they now fit neatly into the cycle.
Dark Scribe: In both collections of Cedar Hill stories, as well as in your new novel Coffin County, there are excerpts from a " visitor ' s guide " to Cedar Hill. Have you ever considered publishing a concordance or other reference-type work related to Cedar Hill?
Gary Braunbeck: Funny you should ask. Yes, a Cedar Hill concordance is in the works. Sometime between now and next fall's release of the next Cedar Hill novel, Far Dark Fields, an official Cedar Hill website will be going live, documenting all of the characters who've appeared in the novels and stories, detailing the myths and legends of the town, listing the stories and novels in which characters from different stories cross paths, offering histories of many of the settings, more visitors' guide excerpts, and even noting stories and novels by other writers where Cedar Hill, Ohio, has been mentioned. It's already been an exhausting process, but I think it'll be worth it.
Dark Scribe: Is there going to be a final Cedar Hill story – one that concludes the cycle? And if there is, do you already know what happens?
Gary Braunbeck: Yes. It's entitled "This Dark March," and it will appear in the next collection from Earthling, The Carnival Within: The Collected Cedar Hill Stories Vol. 3. I know almost exactly what's going to happen – I never plan a piece beyond the halfway point, because in 99% of the cases, by the time I get to the halfway point, some character has stepped in to tell me what he or she is going to do, and I have to obey the story, not my intentions. I can tell you that this will be the story where the real identity of The Reverend will be revealed, as well as the exact nature of the strangeness that defines Cedar Hill.
Dark Scribe: After the third volume of Cedar Hill stories comes out this year, will there be anything left uncollected? Will there be more forthcoming?
Gary Braunbeck: Yes, there are still a lot of Cedar Hill stories that haven't been collected, but these are stories that fall into the various gaps in the timeline set up in this first section of the cycle. My intention all along has been to establish a timeline – this is where it all started, this is what happened in the interim, and this is how it all ended. I have deliberately left holes in the chronology that I intend to go back and fill in, so even though this part of the cycle is nearing its conclusion – after nearly 25 years – it does not mean that Cedar Hill is done for. Not by a long shot. But Paul Miller (of Earthling Publications) has given me the opportunity to document all of the benchmarks in the town's history, and the three collections will serve as a solid foundation for its history for new readers.
Dark Scribe: Are there any plans to collect the Cedar Hill stories that aren't included in the three Earthling volumes?
Gary Braunbeck: Not yet, but I wouldn't be opposed to it. There are several novellas set in Cedar Hill that have not
been collected simply because of their cumulative length. I would have dearly loved to have included "The Ballad of Road Mama and Daddy Bliss" (from Destinations Unknown), but it's nearly 50,000 words.
My hope is that this third collection will prompt readers to clear out Earthling's remaining copies of the first two volumes, and then, maybe someday, we'll see Volumes 1.5 and 2.5.
Dark Scribe: Stories in both Cedar Hill collections have been tweaked and altered from their original form. What was the reason to do this? Will this also be the case in volume three?
Gary Braunbeck: I mentioned before that the revisions of pre-existing material were necessary in order to better establish and maintain the chronology, but these revisions also allow me to smooth over stories that have some fairly rough (read: written when I was much younger) prose and to see if any of the background characters were actually people I've since met along the way.
And yes, the reprinted stories in The Carnival Within will all have been tweaked to some extent. It's been easier this time because, as I've written and published the stories, I've kept in mind their place in the cycle. The Carnival Within will also contain more original stories than the first two volumes combined. Right now it's looking like there will be at least forty thousand words of new Cedar Hill stories. This portion of the cycle is going out with a bang, not a whimper.
Dark Scribe: Are you writing the Cedar Hill material chronologically now? Or will you always go back and fill in gaps in the timeline?
Gary Braunbeck: Thanks for asking that, because it gives me the opportunity to repeat something vitally important: this is not the end of Cedar Hill. I will be going back and filling in the gaps in the timeline.
Dark Scribe: If Cedar Hill were a real town, what would its motto be?
Gary Braunbeck: It already has one, one that's popped up at least four times in various stories: "This is Cedar Hill. Weird shit happens here. Get used to it."
To learn more about Gary Braunbeck, visit his official author website.
For more information on The Collected Stories of Cedar Hill, visit the publisher's website.
Read the DSM review of Gary Braunbeck's latest, Coffin County.
Posted
on Tuesday, June 3, 2008 at 12:01PM
by

Dark Scribe Magazine
in Authors
|

Post a Comment