By, Derek Clendening
Gord Rollo's writing career didn't start with the discovery of an unexplainable talent. Like many, he started with some ability and the determination to be successful. In the years to come, he took this mold and acquired the skills and direction necessary to make the big time. Now, the forty year old real estate agent from Dunnville, Ontario has achieved some well-deserved success in the horror field. This summer, Leisure Books will publish his novel The Jigsaw Man as a mass market paperback. Though he claims to feel more comfortable writing novels, his short fiction has been published in many anthologies and magazines, and his novella Lost in Translation was published by Nyx Books in 2007.
When Gord and I realized we were booked on the same Southwest flight to Salt Lake City for the World Horror Convention, I was quick to ask for a more formal talk about his success. He graciously accepted and we talked about everything from his oldest writing memories, to the most personal experiences he has put on paper.
Gord arrived at my home before dawn so we could catch a 6:40 flight to Salt Lake City. U.S. Customs and the New York State Thruway was a breeze, leaving us time to talk horror. When we checked our luggage at the Buffalo airport, the conversation turned serious. As we waited in the security line, Gord asked, "How much would I have to pay for your right arm?" I paused, uncertain how to answer. Then he asked, "What about your right leg?" At first, I didn't take him seriously. When his expression didn't change, I knew I was in trouble.
He assured me that he didn't want to buy my right arm, but the question was no less serious. Hearing the question from a radio DJ had sparked his imagination and he began asking himself the proverbial what if? "So, I started asking my friends the same question," he said as the plane took off for Chicago. "The answers were always different, but never boring, and before long, I had the plot for The Jigsaw Man. In my head." He said he realized that big opportunities have big consequences and he was amazed at what his friends would give up for two million dollars. I told him I was happy to keep my limbs attached.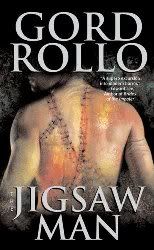 The Jigsaw Man is about a man who sells his arm to a scientist for two million dollars but can't help wondering what he'll do with it. Though the novel is a modern-day Frankenstein tale, the emotional undercurrent is derived from reality. Gord explains, "In 1995, my daughter Amanda was born with terminal liver disease called Biliary Atresia and her only chance at life was with a liver transplant. She ended up having three liver transplant operations before her first birthday." He says his daughter is now 12 and doing well but "I could never forget. That pain and suffering always stays inside you. The story has nothing to do with little girls, and nothing to do with livers, but is has everything to do with my daughter and what my family went through."
The book - originally titled simply Jigsaw - was published by Delirium Books in 2006, but Rollo resolved not to stick to only the small press. He says, "I knew that Delirium was highly respected and the small press was a key stepping stone for bigger and better things for me."
He believed in The Jigsaw Man enough to submit it to Don D'Auria, Executive Editor of Leisure Books. He first met D'Auria at Horrorfind weekend in 2002 and has been "getting in his face ever since." He adds, "It's always important to meet editors, so they can see that you're serious about your craft, are willing to promote your work by attending conventions, and that you can behave like a profession should."
For Rollo, persistence and hard work paid off. He inked his first deal with Leisure just before last year's World Horror Convention in Toronto, Canada. Leisure has since accepted his novel Crimson, which was published by Prime Books in 2002. However, D'Auria's interest had a catch. Crimson was not accepted until Gord cut fifteen thousand words from a manuscript that had already seen a fifty thousand word facelift. "Consider this a lesson," he says. "Even when you think you're done with a story, you might not be. Your writing can always get better." He considers this version of Crimson to be "leaner and meaner" than the original and for the collectors out there, Rollo has just struck a deal with Roy Robbins at Bad Moon Books to make a deluxe limited hardcover version of Crimson available by the end of this year.
When we landed at Chicago's Midway airport, we were both hungry for some breakfast, and the food court was loaded with breakfast temptations. We sat down with our bagels, and Gord recounted his beginnings in the writing field. I first asked him what his biggest obstacles were.
"That one's easy: Juggling my day job with my writing commitments. It's hard to work all day, pick up the kids, make supper, help the kids with their homework, then go write the next great blockbuster novel."
I was curious to know what inspired him to write and how his craft has evolved into his current work. He said that his first crack at creative writing came long before The Jigsaw Man or Crimson. He claims to have come by his predilection for writing honestly, citing that his father, James Rollo, is also a writer. Rollo Sr. still actively writes and has a Western novel currently being considered by Leisure Books. This familial talent struck him early enough that he wrote his first short story when he was ten years old. Rollo didn't limit himself to short fiction, having written a sixth grade play that was performed before his entire school. His first horror story, titled "Weekend Of Terror" was written that same year. "Those were kid things," he says, "I got serious about writing in college and had finished the first few chapters of a novel by 1988."
Once he had finished some short stories, he needed a place to submit them. He noted that much of his early writing was in the pre-Internet days, so he turned to Writer's Digest for market information. His first publication was in Black Petals, a low-budget horror 'zine. "It was one of those black and white magazines that looked like it'd been photocopied and stapled together," he says.
That first sale, however small, spawned into a host of new opportunities. When Crimson was published, he tackled the role of associate editor with Prime Books, having edited the first books of Stoker nominated authors Lee Thomas and Nicholas Kaufmann. This editorial experience gave him the wings to become an anthologist by editing Unnatural Selection: A Collection of Darwinian Nightmares and Dreaming of Angels (with Monica O' Rourke). Though the first collection was compiled by invitation only, he was overwhelmed because he still had to turn away some big name writers. More challenging was learning how to suggest revisions to the name writers who remained. "Who am I to tell Brian Lumley to change something?" he remembers asking. Still, the experience proved successful as Unnatural Selection made it onto the preliminary ballot for the Bram Stoker award for superior achievement in an anthology and was a finalist for the EPPIE Award in 2002 for Best Anthology.
Pushing forward and paying his dues didn't come without other obstacles. He needed an agent, but finding one who would take him seriously was a challenge. He recalled a pitch session that barely lasted fifteen seconds. The standard "thanks but no thanks" or "we don't feel that plot suits our current needs" became routine. Often, the queries he sent to New York agencies went unanswered. That changed after his deal with Leisure Books. Though he has since landed both a book agent and a film agent, the same agents who ignored his queries have come looking to offer representation. "Unbelievable," he says. "Where were these people three years ago?"
Perseverance isn't the only imperative in writing to him. As we grew more excited about the upcoming convention, our conversation turned to the networking and camaraderie that helps a writer, but we had to cut our talk short to catch or connecting flight from Chicago to Salt Lake City.
Once we were squeezed into seats on our fully loaded plane - complete with singing flight attendants, no less! - we discussed Gord's influences and his dreams for the future. A writer with his first taste of true success can't help dreaming of what comes next. When I asked him where he saw himself in five years, he laughs and says, "I want to say rich and famous, but who doesn't? A writer needs to be lucky and flexible at the same time. I would need to write for the mass market and the small press and get lucky enough to sell some foreign books rights and maybe get some film deals too. Bottom line is I would like to write full time. That's my ultimate goal."
The captain came on the intercom to tell us we were cruising at 40,000 feet and heading into strong head winds,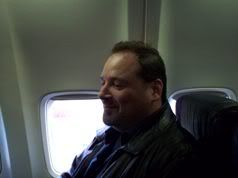 meaning our trip was being slowed, but that didn't stifle our convention excitement. I thought to ask Gord how conventions have helped to shape his career. He says that they haven't always affected his craft, as he credits much of his learning to reading authors who are better than him. He says that attending panels were definitely helpful, but the networking opportunities have been more valuable than anything. "It's relationship building at the cons that I think really helped get me to a higher level," he says. "There is something so powerful about being in a room with so many people who think exactly like you and care about the same things you do. It's an amazing thing and it really draws me to conventions." He adds: "Some of my favorite people are writers I've met at conventions and who I only see once or twice a year…Gene O'Neill, Michael Laimo, Brian Keene, Weston Ochse, J. F. Gonzales. A few hours talking with those guys totally recharges my batteries and teaches me ten times what I might learn in any writing textbook."
When the captain announced our final descent into Salt Lake City, I asked Gord to reflect on his biggest influences.
"I read all of the King and Koontz I could get my hands on, naturally, and Robert McCammon was also a favorite of mine, but my biggest influence back then was probably Richard Laymon. Being from Canada, I was able to get all the British versions of his novels long before the United States gave him a chance. What I loved most about Laymon was that his writing was not too literate, not too stuffy. It was straightforward and accessible without all the drawn out and padded character development. Something about it kicked ass and made me think it was possible I could write like that some day. I was in awe of his talent. Still am."
Gord also credits Gene O' Neill, author of Confessions of St. Zach and Burden of Indigo as his most significant mentor. "He took me in during my first convention when I didn't have a pot to piss in and gave me a room to stay in," he says. "Gene's like a Father figure to me, a great friend, but more importantly, he's a superb writer and has taught me so much about the craft of fiction writing. I'd never be where I am today without his guidance and kicks in the ass to keep reaching for higher levels in my work."
Our excitement almost reached a fever pitch when we landed. There was a pause before the flight attendants opened the cabin door, but we couldn't wait to get off the plane. Though our plane arrived slightly behind schedule, we were at the Salt Lake City airport in perfect time to meet Gene O' Neill, who was flying in from Oakland, at his gate. Gord met his mentor with a big hug and an unspoken promise to add more fun times to a collection of good convention memories. The three of us shared a cab to the Radisson, which was home to World Horror Convention 2008, while admiring the majestic, snow-capped mountains.

Utah wasn't the only stop in Gord's travel plans this year. He will be a featured writer at this year's Canadian Book Expo in June, and he will also be a guest at Rue Morgue's Festival of Fear in Toronto this August. Later that same month, he will appear at Baltimore's Horrorfind weekend, then move south for Dragoncon in Atlanta on Labor Day weekend. He also plans to do several local Canadian book signings, as well as a book tour through California this coming October or November.
"If my readers haven't gotten tired of me by Christmas, I'll have to start promoting Crimson, which will be released in April of 2009. Things are going to get hectic and crazy, for sure, but I honestly wouldn't want it any other way. Why would I?"
Pre-order Gord Rollo's Jigsaw Man.
Posted
on Monday, April 28, 2008 at 09:52AM
by

Dark Scribe Magazine
in Authors
|

Post a Comment