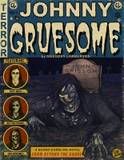 Bad Moon Books / September 2007
Reviewed by: Jeff Burk
Author and Slime City director Gregory Lamberson returns with his second novel, Johnny Gruesome. Essentially a splatter-movie in prose form set against an authentic 1950's backdrop, a teenage zombie exacts revenge on those who have wronged him. Imagine Grease meets Re-Animator.
Johnny Grissom is just your average pot-smoking high school bad boy with a wayward past. After being strangled by a coked-up friend, his life becomes even more interesting as a bloodthirsty member of the undead. As the story unfolds, his few surviving friends are struggling to beat murder raps and hold on to their sanity while trying to stop their deceased friend.
With its fast cars, leather jackets, and wholesome small town vibe, Johnny Gruesome feels like the drive-in movie you never saw. Lamberson saturates the grisly ordeal with an ever- present sense of fun and melodrama - meant here in the best possible way. Unrequited love, rival gang clashes, and drug disputes are prominent alongside disembowelments and dismemberments. The affecting side dramas are engaging and infuse the story with enough humanity to balance it.
What makes it all so enjoyable is the literary competence Lamberson brings to the proceedings. While he is primarily known for his visual works, there is no denying his skill with the written word. The story is tight and flows along at a very quick pace. While the subject matter may have an adolescent, comic book feel, Lamberson's treatment is anything but. Substance abuse and addiction play key roles, and he treats the material with a grim seriousness not appropriate for younger readers.
While Lamberson may not be charting any new ground with Johnny Gruesome – let's face it, tales of the vengeful dead have been done innumerable times - his sense of fun and the expert presentation make Johnny Gruesome a blast. It's like reading an old EC Comic at the sock hop. Lamberson has gone all out with promotion, too; there is a mini-movie, CD, an official mask of the titular character, and online comics - all Johnny-themed - and all on his official website.
This one's for anyone who fantasized about lighting up a joint, knocking back a beer, and decapitating the local jock.
Purchase Gregory Lamberson's Johnny Gruesome.
Posted
on Monday, December 17, 2007 at 08:34AM
by

Dark Scribe Magazine
in Small Press Chills
| Comments Off

View Printer Friendly Version

Email Article to Friend