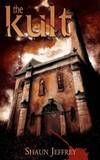 Leucrota Press / May 2009
Reviewed by: Anthony J. Rapino
Following his well-received short story collection, Voyeurs of Death, The Kult is Shaun Jeffrey's first full-length novel since the 2003 release of Evilution. A murder mystery at heart, The Kult employs both suspense and thriller elements, making it a versatile, engaging read.
The Oracle is stalking the streets of Britain. Fueled by anger and revenge, he brutalizes the bodies of his victims, turning their deaths into twisted art. Before long, news of the murders finds Detective Chief Inspector Prosper Snow in the form of gruesome photos of mutilated bodies. It becomes increasingly clear to Prosper and his partner Jill – as a second, then third photo arrives – that they are dealing with a serial killer. They soon realize the pictures themselves may hold clues in the form of murderers' portraits encircling the victims.
In the wake of these crimes, Prosper receives a message from his old friends – Ty, Paris, Jerel, and Wolfe – in a secret e-mail account. The account was created for The Kult, a club formed in their youth to combat schoolyard bullying. In their childhood pact, if any one of them were bullied, the remaining members would castigate the offender. In the past, this involved merely beating up their tormentors, but the new goal is more than a simple thrashing: They are to perform a copycat killing and frame the Oracle for it.
After The Kult's misguided act – in which a reluctant Prosper is blackmailed to participate – the Oracle targets them as his new victims. With Prosper's family, friends, career, and life on the line, he must decipher the clues to discover who the killer is.
Jeffrey adeptly employs traditional mystery devices such as the red herring and the big reveal to construct a suspenseful thriller. He utilizes brilliant shifts in point of view, allowing the reader to examine murders from the eyes of both the killer and the victims. Though the reader won't find any paranormal horror elements here, they'd likely discover such additions would detract from this visceral, real-life horror. The Kult is a satisfying read that digs its bloody hooks in from the first sentence and drags the reader through its pages at a velocity far exceeding that of lesser novels.
Purchase The Kult by Shaun Jeffrey.
Posted
on Wednesday, August 12, 2009 at 10:04AM
by

Dark Scribe Magazine
in Small Press Chills
| Comments Off

View Printer Friendly Version

Email Article to Friend