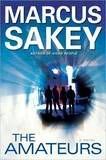 Dutton / August 2009
Reviewed by: Martel Sardina
The Thursday Night Drinking Club consists of four thirty-somethings who are less than content with the mark they've made on the world. Alex is a divorced father who somehow managed to make bartending his career. Jenn is a travel agent longing for a meaningful relationship. Mitch is the doorman at a swanky hotel, a demeaning job that leaves him feeling invisible. Ian, the seeming star of the bunch, is a stockbroker who made a killing in the market only to lose his fortune to gambling and cocaine.
Ian has managed to keep his financial problems and drug addiction a secret. But when his debts get out of hand, he sees an opportunity that may just be the answer to the group's collective problems – the chance to make some fast cash and get out from under the things that have been holding them back from achieving their goals. The problem is this opportunity isn't legal. It involves robbing Alex's boss. They get over their moral objections by rationalizing that since they are stealing from a known criminal, they aren't really committing a crime. And though the group has thought things through, the fact remains that they are amateurs. Can they really pull a job like this off?
The short answer is "yes." They manage to rob Alex's boss but the job doesn't go as planned, leaving a man dead. As the group struggles to figure out what to do next, loyalties are tested. Will the friends succumb to the temptation to turn on each other in order to save themselves?
The Amateurs is Marcus Sakey's fourth novel. In his previous offerings, he's given readers an interesting moral question to ponder. In his debut, The Blade Itself, it was how far would you go to make amends for wronging a friend? This time, Sakey questions the means people use to get ahead. In the age of corporate greed, honesty is for suckers. The way to get what you want in life is to reach out and take it. But when you do that, are you going to wind up getting more than you bargained for?
Sakey continues to amaze this reviewer with his vision of Chicago. Each of his novels has been set in the Windy City, but with each offering he's captured the uniqueness of its various neighborhoods. Sakey casts a light on the dirty underbelly of the crime world that exists and permeates not only South and West, but also affluent lakefront communities like Lincoln Park and Lakeview.
The Amateurs is another of Sakey's fast paced, page-turning thrill rides. Peppered with social and political commentary, this is a book that will make you think. Its mix of action and suspense will leave readers contemplating how far they are willing to go to get ahead and whether or not the consequences are worth it. A highly recommended thriller.
Purchase The Amateurs by Marcus Sakey.
Posted
on Wednesday, August 12, 2009 at 10:00AM
by

Dark Scribe Magazine
in Book Reviews
| Comments Off

View Printer Friendly Version

Email Article to Friend