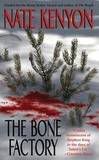 Leisure Books / July 2009
Reviewed by: Joan Turner
The Bone Factory is a gripping and suspenseful tale of classic horror with shades of both Mary Shelley's Frankenstein and Stephen King's The Shining. But Kenyon brings new elements into play in this contemporary story of murder and mystery.
When construction on the Jackson Pumped Storage Project halts due to bad planning and severe Canadian winter weather, hydropower engineer David Pierce is hired to correct the plans and oversee the hydro development reservoir. Fired from a rival company and blacklisted as a malcontent after problems on his previous job, David is running out of money and options. His marriage is in trouble and he desperately needs the second chance the position the Quebec City company offers, so he moves his young family a thousand miles to the isolated community of Jackson.
Problems immediately become apparent when, in his first business meeting with his new supervisor, he finds representatives from the Canadian Government and the FERC – the environmental protection agency – in attendance. They are concerned because fish caught near the plant have abnormalities, and Dan Flint of the FERC soon enlists David to help them discover if chemicals used at the plant are responsible, putting him at odds with his new employer.
But danger to the environment is only one of the threats hanging over the little Jackson community.
Jonathan Newman's experiences in the Vietnam War unleashed a mental breakdown with delusions of persecution that has kept him institutionalized much of his life. Now government cutbacks have resulted in his release against his psychiatrist's better judgment, and he is sent to Jackson to work as caretaker.
People are disappearing, including the little girl whose family had lived in the house where David and his family now reside, and soon the dreams of four-year-old Jessica, David's daughter, a clairvoyant, turn to nightmares of being stalked by a mysterious "blue man."
Kenyon mixes all the right ingredients in this heart pounding third novel: an isolated location, an ongoing mystery, immanent danger and a driven madman compounded by a sense of time running out for the residents of Jackson.
More chilling than his 2007 Bram Stoker Award-nominated novel Bloodstone, Nate Kenyon's The Bone Factory is page-turning horror at its best.
Purchase The Bone Factory by Nate Kenyon.
Posted
on Wednesday, August 12, 2009 at 10:09AM
by

Dark Scribe Magazine
in Book Reviews
| Comments Off

View Printer Friendly Version

Email Article to Friend