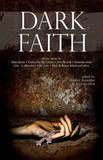 Apex Publications / May 2010
Reviewed by: Blu Gilliand
With a title like Dark Faith, it would have been a simple thing for editors Maurice Broaddus and Jerry Gordon to take the standard horror route in this new anthology from Apex Publications. I mean, a title like that calls forth images of demonic possessions, exorcisms-gone-wrong, tainted Indian burial grounds, haunted churches, killing in the name of God, and other such horror trappings. And I'd totally read that anthology, because there have been lots of awesome stories about those things, and there's always room for more.
However, that's not the route that Broaddus and Gordon chose to take, and, to be honest, we the readers are better for it. Instead of giving us the familiar, they've decided to challenge us a little bit, both with the content of their anthology, and in the context of our own faith, whatever kind of faith that may be. Many of these stories explore and exploit the idea that faith – the idea of believing in something that we often have no concrete proof of – could possibly lead us in the wrong direction.
Take for instance, "Go and Tell It on the Mountain" by Kyle S. Johnson. In it, we join a man in line to meet Jesus on the day of our Final Judgment. The world has gone nuclear, and therefore the line is long. When our narrator finally gets his time with the Son of God, he finds someone quite far removed from the image laid down in Bible stories — instead of a calm and benevolent teacher, he finds a beaten-down chain smoker who has no more idea of what happens to us when we die than we do. This Jesus prefers to be called "Jeezy," and has come to earth at the end of times simply because it might make the old man angry.
D.T. Friedman's excellent "Paint Box, Puzzle Box" explores the idea of creation through the conflict of Artist and Death. Death comes to the Artist one day to collect him, but the Artist strikes a deal — one more year of life so that he can finish his masterpiece. Death agrees, only to have his quarry literally escape into his work.
In "For My Next Trick, I'll Need a Volunteer," Gary Braunbeck takes us back to Cedar Hill for a story about choice and fate. Has our story been foretold, as many would have us believe when they say "things happen for a reason," or is there someone out there who can make a choice that we can't and set us on a different path?
This is an anthology that's heavy on ideas, questions and speculation. But isn't all of faith that way? If you've ever believed in anything – or ever wondered how people can believe in the things they do – there are stories here that are going to give you lots to consider.
Broaddus and Gordon have put together one of the most intelligent, thought-provoking anthologies to come our way in quite some time. And, in the course of doing so, they have also managed to put together one of the most original, entertaining anthologies this reviewer has ever read. And while the fresh approach to what could have been a fairly standard collection of scary stories is appreciated, I do hope the editors will soon indulge us all in at least one horror cliché — the sequel.
Purchase Dark Faith edited by Maurice Broaddus and Jerry Gordon.
Posted
on Tuesday, October 26, 2010 at 07:22AM
by

Dark Scribe Magazine
in Anthology Reviews
| Comments Off

View Printer Friendly Version

Email Article to Friend