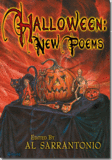 Cemetery Dance / September 2010
Reviewed by: Blu Gilliand
Good Halloween stories start with atmosphere. If you can capture those intangibles that all come together to form that unique Halloween feeling – the crispness of the air, the thrill of a night without adult supervision, the smell of a latex mask, the weight of a bag full of candy – then I'm hooked. And even though I'm not much of a poetry reader, I recognize that it's one of the best vehicles for capturing atmosphere on the printed page. So, when presented with a book of Halloween-themed poetry? Let me at it.
Halloween: New Poems, just out from Cemetery Dance, captures the whole of Halloween by finding the perfect balance of darkness and whimsy. There are poems that address the childlike innocence that is integral to the holiday – the kind of innocence that finds lifelong memories in a few hours of pranks, candy-grabbing and costumes. There are also works here that dig into the sinister sides of All Hallow's Eve, the aspect of the night sprung from pagan rituals and ancient beliefs. And there are some that are just downright spooky. The standouts include:
James A. Moore's "They grow pumpkins down there" shifts from a nostalgia-tinged description of a valley where the season's best pumpkins are grown to, in the space of a single line, a dread-filled cautionary tale for "fools who have forgot their debts."
"Crossroads, All Hallow's Eve" examines the barrier between the living and the dead, which (as we all know) is thinnest on Halloween night. Well, almost all of us know this, the exception being the two unfortunate souls who fail to heed the warning signs in Ardath Mayhar's poem.
"Autumn," by James A. Moore, uses the hallmarks of the season – dead leaves, shortened days and chilled air – and turns them upside-down so they represent not the coming of a beloved season, but the isolation and desperation of those who have lost everything important to them.
Brian James Freeman's "Under the Halloween Tree" is a bittersweet portrait of a young boy's first inkling that time changes everything, even the rituals of a beloved holiday.
Anchoring the book is Bradley Denton's long-form poem "Cap'n Hook (A Tale of the Prairie)," a classic campfire tale with a well-worn but well-loved twist.
With Halloween: New Poems, editor Al Sarrantonio (who has told a fair Halloween tale or two of his own with his "Orangefield" series) has brought forth 100-plus pages of distilled Autumn magic. Warm up some cider, stoke the fire, and dim the lights – this is one you'll be pulling off the shelves every October for years to come.
Purchase Halloween: New Poems edited by Al Sarrantonio.
Posted
on Friday, October 29, 2010 at 08:23AM
by

Dark Scribe Magazine
in Poetry Collections
| Comments Off

View Printer Friendly Version

Email Article to Friend