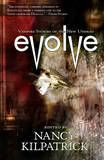 EDGE Science Fiction and Fantasy / March 2010
Reviewed by: Blu Gilliand
Vampires just won't stay dead. I don't care what you try: stakes, garlic, Holy water, bad fiction, terrible movies — they continue to rise up and worm their way back into the public consciousness. The latest resurgence of the vampire sub-genre owes a lot to the Twilight series, not to mention HBO's True Blood. And this past summer's bona fide buzz book, Justin Cronin's epic The Passage, provided more lifeblood to the bloodsuckers.
Squeaking in somewhat under the radar and hoping to ride this current wave of interest comes Evolve: Vampire Stories of the New Undead, the all-Canadian, all-vampire anthology from EDGE Science Fiction and Fantasy. The very title serves as a sort of call-to-arms for the authors, as the book sets out to show how vampires have evolved in order to survive. In doing so, these authors no only give us an idea of how fictional vampires strive to change and adapt, but how the very idea of vampires has managed to do the same.
Kilpatrick kicks off the collection with a long introduction that traces the evolution of the vampire story through its literary, theatrical and pop culture history. In doing so, she lays down the intent ions of the stories that follow — to hew close to the things that make vampires special, while taking them in a whole new direction. And while some of the stories can't quite wriggle free of the typical vampire conventions, many of them are able to break ground and emerge as a breath of fresh air.
Ronald Hore's "Chrysalis" is an example of one such story. It's the tale of a girl who is not only coming into her own as a young woman (and grappling with all the sudden and strange changes that go along with that), but who is also noticing changes of a more supernatural and unexpected variety. Rather than being unsettled by this, she embraces it, and relishes the control over her future that's suddenly in her grasp.
Rebecca Bradley's "The New Forty" takes a look at our youth-oriented culture from the perspective of a centuries-old vampire. Although pleased to see her kind finding a foothold in the world, she's alarmed that it's the newer, younger generation that's leading the charge — a generation that she finds more than a little fault with.
Bev Vincent mixes the vampire genre with the crime story in "A Murder of Vampires," a moody piece that starts off with the gruesome death of a vampire wannabe — a killing by stake that mirrors five previous murders of actual vampires. The story starts on that interesting twist and is a fun ride all the way to the end.
There are other standouts, and even those stories that didn't work for me get points for taking chances. It's collections like Evolve that are absolutely vital to the continued growth and health of genre standbys like vampires. Evolve continually thinks outside the coffin, and it's a thrilling if uneven feast for casual fans and vampire aficionados alike.
Purchase Evolve: Vampire Stories of the New Undead edited by Nancy Kilpatrick.
Posted
on Tuesday, October 26, 2010 at 07:20AM
by

Dark Scribe Magazine
in Anthology Reviews
| Comments Off

View Printer Friendly Version

Email Article to Friend