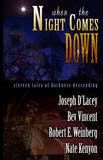 Dark Arts Books / March 2010
Reviewed by: Blu Gilliand
When the Night Comes Down is a sampler pack of if-you-haven't-heard-of-them-you-will authors working in the horror genre. The formula, which Dark Arts also followed for each of its five previous releases, is simple: Recruit four authors and ask for their best, with no unifying theme or restrictions. The result, in this case, is a successful grab bag of sixteen dark tales.
Joseph D'Lacey kicks off the collection with "The Unwrapping of Alastair Perry," which was not only my favorite story of his, but of the entire book. It begins with a simple act of shaving, but quickly dissolves into a terrifying and bewildering transformation for the title character. Alastair Perry learns to adapt to his evolution into...something else, even as the reader is kept off-balance by the shifts in his life and in the story. That's the kind of feeling that readers seek in books like this, and each author manages to pull it off in their own way.
Bev Vincent, best known perhaps for his non-fiction work (The Illustrated Stephen King Companion, The Road to the Dark Tower) proves there's a whole different side to his talent with his representation here. Of particular note is "Knock 'Em Dead," the tale of an author who gets an unexpected boost in sales when patrons start dropping dead at his book signings. The story seems to have played its last note when Vincent drops in an interesting twist toward the end. "Something In Store" is another standout in the book, and a tale which many rabid readers can relate to — what would happen if you owned a bookstore, and whole rooms of priceless editions materialized there overnight? The tale starts out with an almost lighthearted "Isn't this cool?" sort of vibe, but Vincent brings on the dark in a hurry.
Like D'Lacey before him, Robert E. Weinberg scores right out of the gate with his first story, "Elevator Girls." He brings both the solitary struggles of writing and the convention culture to vivid life, and then tosses one of the horror genre's oldest and most venerable subjects into the mix with memorable results.
Nate Kenyon bats cleanup in this impressive lineup of talent, and he makes a vivid last impression with his quartet of stories. "Gravedigger" is a particularly strong effort, mixing the living dead with drug deals gone wrong in an action-packed, blood-soaked nightmare.
Like any anthology, there were some stories here that worked better for me than others. The great thing about the format Dark Arts has chosen is that it's so wide open — there's quiet horror right next to stories that would make a splatterpunk smile. The four authors represented here all have something unique to bring to the table, and their differing styles and sensibilities are expertly blended by editor Bill Breedlove. This is a true treat for readers ready to try something new, and is highly recommended.
Purchase When the Night Comes Down edited by Bill Breedlove.
Posted
on Monday, May 31, 2010 at 01:03PM
by

Dark Scribe Magazine
in Anthology Reviews
| Comments Off

View Printer Friendly Version

Email Article to Friend