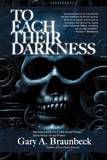 Apex Publications / December 2010
Reviewed by Daniel R. Robichaud
Gary A. Braunbeck's second foray into book-length nonfiction, To Each Their Darkness, is a complex work that is at once a memoir, a reflection upon the writer's craft, a review of the highs and lows of horror entertainment, and a call to action for creators of dark fiction. While this book might easily lose its way trying to cover so much ground, Braunbeck's capable prose and emotional honesty hold the book together. The result is both thoughtful and provocative.
This volume owes quite a debt to Braunbeck's Fear in a Handful of Dust: Horror as a Way of Life (Betancourt & Company, 2004). In fact, Braunbeck reprints much of that book's material here. The author is quite upfront about this, elucidating the rationale behind revisiting his early work and the differences between the two texts through five humorous and self-effacing introductory explanations. In brief, Braunbeck views the current book as a variation on a theme, an attempt to better express the points the previous volume approached but missed. As Fear in a Handful of Dust was an expensive hardcover, Apex Publishing's reasonably priced trade paperback is a welcome edition.
However, To Each Their Darkness is not a lightly revised and minimally expanded variant on Fear. This book offers new material, including intros and afterwards (for works by Mort Castle, Glen Hirschberg, Fran Friel, etcetera), some musing on film adaptations, and a heartfelt tribute to horror fiction legend J. N. Williamson. In addition, readers will find plenty of erudite analysis of other writers' works, the current faltering state of horror fiction, and Braunbeck's high hopes for the field.
This book's central argument is one of self analysis: without understanding the darkest parts of one's own life, the book argues one cannot create something truly horrifying. Going one step further, the book turns Douglas Winter's infamous speech equating horror with emotion on its ear, stating horror is not an emotion at all, but a byproduct of other feelings. Thus, the Braunbeckian ideology of horror calls for a complex tapestry of emotions, responses, and relationships. Only through well drawn characters, can fear be communicated.
A book of this nature can be viewed in two wildly divergent ways: it is either a smorgasbord of encyclopedic knowledge and analysis about the honest value of horror entertainment as seen through one fan and creator's life and work, or it is a self-indulgent attempt to establish the importance of personal hobby horses to an indifferent world. I side with the former way of thinking, while accepting the existence of a vocal contingent for the latter: to each their opinion. These are the same responses granted to any work wherein writers grapple with the juxtaposition of fiction, film, and life, including Harlan Ellison's The Glass Teat, The Other Glass Teat, and Harlan Ellison's Watching, Stephen King's On Writing and Danse Macabre, David J. Schow's Wild Hairs, Joyce Carol Oates' Faith of the Writer and In Rough Country, and Larry McMurtry's In a Shallow Grave; To Each Their Darkness comfortably stands in these titles' company.
When the book works best, it draws together autobiography, film criticism, an aesthetic vision, and gallows humor to portray Braunbeck's own life and reflect upon this life as a source for the terrors populating his fiction. Stories, whether told through prose or pictures, do not exist in a vacuum — the better tales draw upon personal experience while responding to stories that came before and inspiring those that follow. Just as Godard could criticize a film by making another film, authors contribute to a grand conversation with each novel or short story they write. In its successful sequences, To Each Their Darkness shows one creator's process for contributing his individual voice to that ongoing discussion. Though it leaves little room for popcorn escapism – save for a cheeky introduction to Ray Garton's 'Nids and Other Stories, which feels oddly out of place here – these passages offer the clearest call for creators to aspire for larger things than yet another zombie-apocalypse or simplistic vampire tale.
Like the best of Braunbeck's fiction, To Each Their Darkness is intensely personal. As such, it won't be to everyone's liking, but this is a book that neither requires nor desires blind devotion. It is a curiosity, a puzzle that is at once illuminating and frustrating and confrontational but always engaging.
Readers who have not read Fear in a Handful of Dust: Horror as a Way of Life will find much to think about. Those familiar with that volume may be disappointed by the ratio of reprinted material to new, but in any form, this volume's ideas are well worth revisiting.
Purchase To Each Their Darkness by Gary A. Braunbeck.
Posted
on Tuesday, March 22, 2011 at 08:41AM
by

Dark Scribe Magazine
in Non-Fiction Reviews
| Comments Off

View Printer Friendly Version

Email Article to Friend