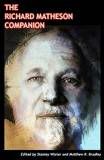 Gauntlet Press / April 2008
Reviewed by: JG Faherty
Let's start off with the most important thing you need to know about this book: it contains a never-before-seen novel (actually, more of a novella) by Richard Matheson. If you're a fan of Matheson, that's all I have to say, and you'll be ordering the book before you reach the next paragraph.
That being said, and assuming you're back to finish this review, let's get to the rest of the book.
The Richard Matheson Companion is a book for fans, as we've said, but also for those of us who like to know more about a writer than just the names of his stories and novels. You know the type; they're the ones who buy the various Stephen King companions, or The Science of the X-Files, or all those books that discuss the world of Buffy the Vampire Slayer. They purchase old scripts. They're the historians of the genre. Sometimes we can't understand how people can get so immersed in something, and then we take a look around and realize a scary fact:
They are us.
All of us have a subject or a person we want to know more about - everything about. That being said, Richard Matheson was not on my list. I've always enjoyed his stories and novels. Like many of the writers who contributed recollections and tributes to this book, I'm of that age where I first heard about him from his movies - for me they were The Incredible Shrinking Man and The Omega Man. When my father told me they were based on books, I had to go to the library and read them.
Then, when I found out he'd written Nightmare at 20,000 Feet, one of my all-time favorite Twilight Zone episodes, I went back to the library and tried to find everything by Matheson that they had. That included Hell House, another great one.
But for me, the name Matheson will always be associated with TV and movies, because he wrote screenplays that I drooled over in my formative years: the two Night Stalker TV movies; Die! Die! My Darling!, Stir of Echoes, Duel, and "Prey" (from Trilogy of Terror).
All in all, I thought I was pretty 'up' on Richard Matheson, until I read The Richard Matheson Companion. Forget how cool it is to hear people like F. Paul Wilson, Jack Ketchum, David Morrell, Brian Lumley, and Harlan Ellison talk about Matheson's writing, or how they found it.
I learned (as so often happens with any factual text), how much I didn't know about this man. And while I went into this book assuming the tributes would be the veggies and appetizers around the main meal of a new piece of Matheson fiction, it turned out to be the complete opposite.
I'm not going to share the details of each writer's musings; not only do I hate to be a spoiler, but they were intended to be personal, from writer to reader, and I think each reader should experience them that way. I'll just say that they ranged from lighthearted and comical to serious and academic; from people having no first-hand relations with Matheson to people who worked closely with him over the years and called him their friend.
Perhaps most interesting of all are the pieces by his children and family - tiny peepholes through which we can see into Matheson's private life. Little glimpses of a man who we forget was more than just a writer. He was a father, a husband, a businessman. He had flaws and quirks just like the rest of us.
All of this leads up to The Years Stood Still, the 'new' Matheson novella written when he was only fourteen. It's been reproduced faithfully, with typos and grammatical errors intact. It's the work of a fledgling writer. But what a writer! Check out the first two paragraphs:
The hour of four had barely passed but already it was dark. The skies, sullen all day, hung like a shroud over expectant London. Three times in two days they had been bombed, only the beginning of a huge German campaign to soften up the people of England for the impending invasion.

On Ellen Street all was dark and quiet. The rows of identical tray stone houses that once held the cream of society look up appraisingly at the sky. All were deserted save one which stood in the approximate center of the block. It alone was inhabited and it alone had been struck by bombs.
Fourteen? Fourteen? I've read books written today, by adults, who can't do what Matheson did at an age where my idea of literary accomplishment was doing Star Trek-spoof comics for my friends, comics that relied on fart jokes and Spock's mating habits for most of their humor.
At fourteen, when most boys spend their time playing baseball and avoiding English homework, Matheson was putting together a piece of work that, with some judicious editing, could knock more than a few of today's writers off their shelves.
And The Richard Matheson Companion doesn't end there. You get a complete listing of every screenplay, every story, every book ever written by him, so you can see what you're missing.
The editors of this book have done a superb job of gathering information. The book won't be for everyone - some people only want to read fiction; others might not care about what a slew of well-known writers think about a man they consider a friend and/or influence.
But I'd recommend this book to anyone with an interest not only in Richard Matheson, but in the horror, dark fiction, and science fiction genres as well. This man had his literary fingers in a lot of pies.
Pies you just might have taken a bite out of and not realized who the baker was.
Purchase The Richard Matheson Companion edited by Stanley Wiater, Matthew R. Bradley, and Paul Stuve
Limited, numbered editions also available from the publisher.
Posted
on Tuesday, April 15, 2008 at 10:04AM
by

Dark Scribe Magazine
in Non-Fiction Reviews
| Comments Off

View Printer Friendly Version

Email Article to Friend