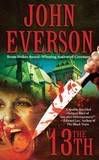 Leisure Books / October 2009
Reviewed by: Martel Sardina

While it's true that you can't judge a book by its cover, consider the cover art for the limited edition hardcover edition of John Everson's latest novel, The 13th, to be a warning. Those who dare to venture past the first page should not be surprised to find hardcore horror within.
When the Castle House Lodge closed, the town of Castle Point hoped for some way to forget the evil that had occurred there. But rumors and ghosts have a way of lingering on, and wind up never quite being forgotten. When the Castle House Lodge reopens twenty-five years later as the Castle House Asylum, it's only natural that the local police would be concerned about the types of patients being treated there.
Officer Christy Sorenson is keeping an eye on Castle House Asylum. She stops by to meet the proprietor, Dr. Barry Rockford, intent on letting him know that the police are willing to lend a hand should he ever need it. Dr. Rockford is cool, almost standoffish, but assures Christy that his patients will be no trouble. The patients are deeply disturbed pregnant women. Providing a secure environment is the facility's top priority. These women are simply in desperate need of rest and relaxation. The residents of Castle Point have nothing to fear.
Officer Sorenson has bigger fish to fry anyway. A series of missing persons cases have cropped up in Oak Falls, a nearby town. And now it seems Castle Point has one of their own. Brenda Bean hasn't been seen for days, since the night she and David Shale met at a local bar. David becomes concerned after being interviewed in connection with her disappearance. There are no leads until David takes a part-time job at the Asylum. He sees a woman that looks like Brenda in one of the rooms. But how could Brenda have become a patient? She certainly didn't seem crazy — nor did she appear to be pregnant when they met. If it is Brenda, what is she doing there?
From this point forward, John Everson takes readers on a journey into dark places. As Christy and David learn more about Dr. Rockford's past, it becomes apparent that things at the Castle House Asylum aren't what they seem. Can they gather enough evidence to prove their suspicions and shut down the Asylum for good?
In his debut novel, Covenant, Everson did a great job of blending genres and giving readers a nice balance of horror and mystery. The 13th has more of a linear progression as the plot unfolds. The mystery element is not as pronounced. At times, the characters became aware of critical information too conveniently or act on information in ways that do not always ring true in terms of their character's motivation, but these conveniences were a necessary function of the plot. Author liberties aside, the action and pacing here keep the pages turning.
Everson frequently writes stories that involve demons, kinky sex, and ritualistic murders. In his previous novels, he managed to walk the tightrope and keep the story from digressing into misogyny. If Everson didn't cross that line this time, he certainly stopped just short of it. Still, The 13th is not for the faint of heart. Readers who are sensitive to graphic depictions of violence – including sexual violence – should consider themselves duly forewarned.

The 13th is available now in a limited hardcover edition from Necro Publications. It will also be available in mass-market paperback from Leisure Books in late October.
Purchase the limited edition hardcover edition of The 13th by John Everson.
Pre-Order the mass-market edition of The 13th by John Everson.
Posted
on Wednesday, August 5, 2009 at 06:10PM
by

Dark Scribe Magazine
in Book Reviews
| Comments Off

View Printer Friendly Version

Email Article to Friend