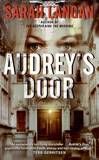 Harper / September 2009
Reviewed by: Martel Sardina
When Audrey Lucas finds the apartment of her dreams – an affordable pre-War beauty in Morningside Heights – she wonders if the deal isn't too good to be true. Of course, it is; it has to be. No one in their right mind would let an apartment like that go for a song. The building's superintendent admits that apartment 14B was the site of a murder/suicide, and tells Audrey she might be better off looking elsewhere. But Audrey just can't let this gem pass her by. As an architect, she appreciates her new building – called The Breviary – not just for its city views but because it's also one of the last remaining specimens of Chaotic Naturalism, a retired school of architectural thought. Although she's not entirely comfortable with the idea of living in a former crime scene, Audrey signs the lease and decides it's a risk she's willing to take. There's no such thing as ghosts, right?
Audrey's personal life is in a shambles since her recent breakup with fiancé, Saraub. Although the move should bring Audrey some peace, her first night in 14B is anything but peaceful. After a fight with Saraub, Audrey is plagued with strange dreams and oversleeps, making her late for the most important meeting of her career – the status report on the 59th Street Parkside Plaza Project.
Audrey's boss, Jill, has been tending to her dying son, Julian. She is relying on Audrey to pull some extra weight on the Parkside project and isn't about to take the fall for Audrey's tardiness. Fortunately, Audrey is able to pull herself together enough to make the presentation and save herself from getting fired. She rededicates herself to the project and stays late sketching new plans. She gets lost in her work, only to realize hours later that she hadn't added much to the previous design save for the addition of a hundred doors. Doors that don't belong in a rooftop memorial garden.
Her nights at The Breviary aren't getting any better. The neighbors are strange. Most of them are elderly descendants of the building's first residents. And why do they keep telling her to build the door?
Audrey's Door is Sarah Langan's third novel. It's a modern haunted house story, inspired by classic tales such as The Haunting of Hill House by Shirley Jackson and The Shining by Stephen King. As a reader, this reviewer found herself totally caught up in the story, never doubting the world that Langan created and never wanting to put the book down. As a writer, I took note of Langan's ability to weave character and setting together. The Breviary is more than a place. It lives and breathes on the page as much as Audrey or any of Langan's other human characters. In her Preface, Langan expresses her hope that she "did right" by both the authors and the works that inspired her and by New York City itself, "the city that stole my heart." As a reviewer, I'm delighted to report that Audrey's Door should make her inspirations proud. Audrey's Door is a highly recommended read.
Purchase Audrey's Door by Sarah Langan.
Posted
on Wednesday, August 5, 2009 at 06:06PM
by

Dark Scribe Magazine
in Book Reviews
| Comments Off

View Printer Friendly Version

Email Article to Friend