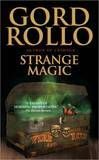 Leisure Books / December 2009
Reviewed by: Michele Lee
Gord Rollo's Strange Magic is a dark, twisted and only slightly supernatural tale of serial killers, magicians and revenge. Wilson Kemp is hiding a secret that starts with the fact that his name is an alias and deepens to the dark reason why he had to change his name in the first place. But all Kemp's secrets are about to come to light (again) as a mysterious Stranger arrives in town, determined to enact vengeance on the slobbering drunk Kemp has become. Kemp knows who the Stranger is — his old show partner, who has been dead for over 20 years.
Strange Magic is a vivid, twisting tale that centers on an evil terrorizing a small family, and cutting its way through their town, for personal reasons. The horror in this story is intimate, personal, but still vague enough for readers to relate to. Horror fans will find much to enjoy in this book.
Not just a fight against alcohol, Wilson finds himself in a fight against evil from the depths of hell, fueled by rage, and all trained on him. Rollo starts with a hapless loser, a complete failure of a man rather than an Everyman. While other characters are involved in Kemp's tale, they are incidental, supporting tools. Rollo's writing sets everything but the Stranger and Kemp up as accessories to the act, or misdirections for the effect of the story. The book itself is presented almost as a performance.
Wrapped up in carnival-like touches that never succeed in being jolly, but instead stay grotesquely skewed, Strange Magic is a solid, entertaining horror offering that's quite simply hard to put down.
Purchase Strange Magic by Gord Rollo.
Posted
on Wednesday, March 31, 2010 at 01:52PM
by

Dark Scribe Magazine
in Book Reviews
| Comments Off

View Printer Friendly Version

Email Article to Friend