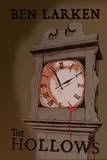 LL Publications / November 2009
Reviewed by: Rick R. Reed
Synopsis: 1949: A young girl is traumatized when she witnesses a grisly murder in the forest behind her home. 1999: A loving wife disappears in the middle of the night, leaving no trace of her whereabouts. 2009: Former detective David Alders rents an apartment at a typical complex; a quiet unassuming place nestled in the outskirts of Fort Worth called The Hollows.

David is at a dead end after ten maddening years searching for his vanished wife. With mounting bills and a daughter on the verge of college, he makes the only logical choice: sell the family home, get back to work, and take a cheap apartment. His daughter, Melanie, is secretly thrilled about the change hoping it means a fresh start for their withering family.
But The Hollows has other plans…
As a new community welcomes the Alders into its midst, elusive figures watch from the periphery, waiting for their moment. On the first night, a grotesque, burnt man seizes Melanie in her bed, spewing insane ramblings before disappearing into the darkness. She struggles to convince her father what happened was real, but David has his own problems.
Like the fact that he has just woke up in the wrong day.
Welcome to a tour through the dark underbelly of the last half-century where invisible hands take you by force to the demons of your past. Where you can find terror, time travel, and murder — all for one low monthly rent.
Review: One of the pleasures of this job is seeking out the little horror and suspense gems that are out there. You know, the ones you might not find on the front displays at Barnes and Noble or talked up in Publisher's Weekly.
One such book is Ben Larken's The Hollows, which breathes whole new life into the horror genre by taking the time-honored device of time travel and turning it on its head. Larken's smart, compelling book was a real pleasure to read for a jaded old horror fan like myself, demonstrating to me that there is something new under the sun when it comes to terror. The Hollows was truly a book I didn't want to put down the entire time I was reading it.
Larken, like Stephen King, to whom he's been compared, shapes his horror out of the mundane: a poor, working farm, a Texas apartment complex, and characters in jobs that are anything but glamorous. When a writer combines these seemingly everyday people and places with something decidedly out of the ordinary, the horror and dread ratchet up.
Larken masterfully weaves a tale that moves seamlessly from 1949 to 1999 to 2009, effectively linking his characters and events along the way and spinning readers toward an almost apocalyptic climax. Larken knows that some of the best horror springs from not only having his characters' very lives hang in the balance, but the whole worlds' as well. And Larken also knows how to scare you, not by creating monsters that bear fangs and have yellow eyes, but by crafting them from the stuff we might encounter in our everyday lives. Never before have I been so frightened by a man in a black suit...or the sound of a ticking clock.
The Hollows takes us not only on a time-travel adventure, but is also smart enough to give us a look into the lives of his characters that's deeply sympathetic and plays upon a universal chord: the wish to return to a former time, to either right past wrongs or find out the solution to a mystery plaguing us. His characters, good and bad, have flaws and they're seldom presented in simple shades of black and white. I like that complexity and it makes his story, with its inherent danger and suspense, flow that much better.
If you're looking for something fresh, original, and with an honest take on the human condition, you'll find all of those things within the pages of The Hollows. I don't want to spoil its carefully-arced storyline, its often gruesome and shocking details, or its ability to hold a reader in a grip of suspense by giving away too much of the plot. Suffice it to say that The Hollows is a good ticket into nightmare country.
Purchase The Hollows by Ben Larken.
Columnist Rick R. Reed is the author of twelve novels and has short fiction in more than twenty anthologies. He lives in Seattle, WA. Find out more about the author at his official author website.
Posted
on Sunday, March 21, 2010 at 07:24PM
by

Dark Scribe Magazine
|

2 Comments
|

1 Reference

View Printer Friendly Version

Email Article to Friend
References (1)
References allow you to track sources for this article, as well as articles that were written in response to this article.