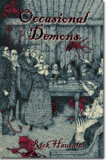 Cemetery Dance / Fall 2008
Reviewed by: Blu Gilliand
In his love letter to the craft, On Writing, Stephen King refers to the short stories he pumped out at the beginning of his career as "one reel horror movies." It's a perfect description of what you'll find in Rick Hautala's new collection from Cemetery Dance, Occasional Demons: almost thirty compact, visceral thrill rides full of blood, suspense, and a variety of Horrible Things, presented in quick bites that linger for a period of time far longer than it actually takes to read them.
The stories collected here span much of Hautala's career, from his second published story to a 2004 effort that was, at the time the introduction was written, his most recent short story. (Occasional Demons has been pushed back extensively from the publisher's first announced release date; the publication date listed on this reviewer's advance copy is March 2006.) Although the stories are not printed in chronological order, readers will still get a sense of Hautala's growth as a writer. The fact is, the man started strong and just keeps getting better.
The collection kicks off with "The Nephews," a solid entry in the classic ghost-story-told-in-a-bar corner of the horror genre. "Toxic Shock" features a twist ending that would feel right at home in an EC comic. "Off The Cuff," about a man with an irrational (or is it?) fear of appliances, feels like an episode of The Twilight Zone. Page after page, story after story, Hautala sets up the familiar tropes of the genre and sets them spinning with his own stylistic touches.
Even the last story, "Scared Crows," a collaboration with Jim Connolly which features Hellboy, the Mike Mignola creation made famous in Dark Horse comics and Guillermo del Toro movies, feels right at home in the overall body of Hautala's work. The authors do a great job of capturing the gruff, beer-swilling soul of Hellboy, but the story about a serial killer, a scarecrow, and another hole-in-the-wall bar doesn't feel out of place – it's a seamless addition to the overall collection.
Let's hope Cemetery Dance gets this book out in time for Halloween. This is one of those collections that will be perfect for a crisp autumn night when the moon is riding high and shadows are gathering at the windows. Occasional Demons is a fun, occasionally superb batch of horror stories, and is highly recommended.
Purchase Occasional Demons by Rick Hautala.
Posted
on Wednesday, August 27, 2008 at 01:06PM
by

Dark Scribe Magazine
in Small Press Chills
| Comments Off

View Printer Friendly Version

Email Article to Friend