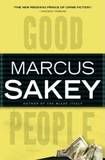 Dutton (Penguin Group) / August 2008
Reviewed by: Martel Sardina
What are Tom and Anna Rice supposed to do when they find nearly four hundred thousand dollars in their dead tenant's apartment? The man was a recluse, had no family, no visitors during the time he lived in their basement apartment. If they turn the money over to the police, it might be kept for perpetuity in an evidence locker or, more likely in the city of Chicago, become part of the mayor's political machine. Why should the money be wasted when it could go to an even better cause - funding the Rice's' dream of becoming parents?
If Anna's latest round of infertility treatments had resulted in pregnancy, the thought of taking the money may not have even crossed her mind. But when the pregnancy test came back negative, and Anna realized that their cumulative debt meant that was their last chance, it seemed the dream was lost. But now, after finding the dead man's treasure, that dream could become a reality.
What Tom and Anna don't know is that their tenant wasn't whom they thought. The man they knew as "Bill," was really Will Tuttle, one of the men responsible for the high profile Shooting Star case, a deadly heist that Chicago police are anxious to solve. Tom and Anna don't know that Tuttle not only ripped off his heist partners but also a notorious drug dealer. Deciding to take Tuttle's treasure is their first mistake; trying to keep it might be their last.
Good People is Sakey's third novel. Some might say that Sakey knows Chicago like Dennis Lehane knows Boston. While both authors like to show the dark underbelly of their respective cities, they do it through the eyes of believable characters. Sakey uses the term "good people" throughout the novel. Everyone is the hero in his or her own story. Getting that glimpse into why each character thinks they are "good people" makes the reader empathize with Tom and Anna. It also makes their criminal counterparts that much more frightening.
Sakey also gives readers a brutally honest portrayal of the struggle infertile couples face, making all facets – physical, emotional, and financial - clear. And while the reader understands why Tom and Anna do what they do, justification doesn't come without a price. Sakey doesn't let Tom and Anna off the hook when it's time to deal with the aftermath of the choices they've made.
Good People is a must read for those who want to take another thrill ride through Sakey's Chicago. Like the best roller coasters, the journey is fast paced with ups, downs and a few twists that make the time invested worth waiting in line.
Purchase Good People by Marcus Sakey.
Posted
on Wednesday, August 27, 2008 at 01:03PM
by

Dark Scribe Magazine
in Book Reviews
| Comments Off

View Printer Friendly Version

Email Article to Friend