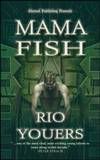 Shroud Publishing / June 2009
Reviewed by: Vince A. Liaguno
There are writers who are so talented that they can make you see the external manifestations of horror in all their full-blown Technicolor ghastliness. And then there are even more talented writers who make you feel horror's heartrending internal effects. Rio Youers falls squarely into the latter category.
Mama Fish is proof that big things come in small packages. This tightly-written 91-page novella follows protagonist Patrick Beauchamp, from his days trying to befriend Harlequin High School's resident misfit to his adult life more than two decades later. The story begins in 1986, with Patrick fascinated by the class oddball, Kelvin Fish, "the square peg, the kid that doesn't fit." As Patrick tries to reach the reticent Kelvin, he discovers that despite his own ability to fit in by going through all the motions of teenage convention – debate club, team sports – that he's also a square peg in a world full of round holes. This unspoken kinship leads to Patrick's desire to know more about Kelvin, and his speculation about the strange boy's home life and family brings him to a pivotal moment involving an ill-fated encounter with bullies that leads to an increasingly bizarre (and ultimately tragic) sequence of events.
Mama Fish is a hard work to categorize – there are decidedly horrific moments, with bits of science fiction and surrealism thrown in amongst the richer coming-of-age material. To Youers credit, he uses the parallel narrative threads between teenage Beauchamp and adult Beauchamp to maintain a steady pace in which the tension mounts and pages turn faster. He imbues Mama Fish with a deceptive literary lushness that belies his crisp, economical prose:
Belief is coupled with the soul, so it stands to reason that if the soul is eternal, so too is belief. However, this is not the case; age generates wisdom, and wisdom engulfs belief. With every morsel of fact or reality, our soul loses its shine. We die inside.
Mama Fish is a highly readable yet thematically heavy story that takes on everything from the loneliness of the teenager's search for connection and self to the gap that separates generations, from the injustices of fate to the rectifying power of karma. It's the speculative fiction bridge between The Breakfast Club and The Big Chill, full of truth, perspective, and an emotional resonance that will haunt you long after the last shocking twist.
Purchase Mama Fish by Rio Youers.
Posted
on Thursday, October 15, 2009 at 06:33PM
by

Dark Scribe Magazine
in Small Press Chills
| Comments Off

View Printer Friendly Version

Email Article to Friend