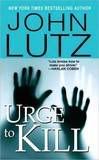 Pinnacle / July 2009
Reviewed by: Rick R. Reed
Synopsis: For a killer, once is never enough.
Homicide detective Frank Quinn can't stay retired when a new breed of murdering madman is on the prowl. In a city terrorized by bloody brutality, Quinn and his team hunt a psychopath who lures beautiful women into a night of unbridled passion, then wakes them to a vicious, drawn-out death. Stumbling over a trail of horribly defiled bodies, Quinn can't seem to catch up to the killer-because the killer is about to catch up to him...
Review: Urge to Kill is one of those books I just couldn't wait to return to. A seamless, heart-pounding plot, vivid characters, a perfect sense of place (Manhattan in the summer), and a mystery wrapped in some of the most carefully-constructed suspense I've yet to witness makes Urge to Kill a book that's hard to fault.
John Lutz is an old hand at thriller and gory mayhem. Maybe that's why Urge to Kill is an almost perfect exercise in terror and suspense. Lutz knows that making us care about his characters is key to our investment in his story. Even though the tale is sensational – a serial killer is preying on lonely Manhattan women, seducing, then brutally murdering them – it's the characters that keep us coming back for more. Lutz has a keen eye for detail, so that we not only know, with just a few sentences, what our heroes and anti-heroes look like, but how they will behave and think. He writes dialogue as if the characters are talking to him in his head. And maybe they are. Each has its own distinctive voice.
Lutz also weaves a complex and surprising mystery into the story. It would have been enough for a lesser writer to build a thriller around a serial killer preying on single women, hunting them down and gutting them like deer, but Lutz adds another layer to Urge to Kill. In that same hot summer, there is also a deadly game of hunter and hunted going on in the Big Apple. Men armed with the same obscure handgun are hunting each other down and killing; the winner is the one who gets off the deadly shot first. But can the serial killer preying on women be the same man who is masterminding these deadly duels? Lutz doesn't let us know the answer to the mystery until the final, breathless pages unfold. Like any master mystery/thriller writer, Lutz reveals the solution to the mystery bit by bit and putting it all together before Lutz is ready to spill the goods would take a genius whodunit solver.
An array of fascinating points of view propel the story at a brisk pace, which seems short even though it's upwards of 400 pages. Lutz endows each character with a distinctiveness that makes them all, if not sympathetic, then fascinating. Urge to Kill is one of those breathless reads that keeps one up all night, not only to find out what happens next, but to make sure those sounds one hears at night are not just the house settling, but something more sinister.
Purchase Urge to Kill by John Lutz.
Columnist Rick R. Reed is the author of eleven novels and has short fiction in more than twenty anthologies. He lives in Seattle, WA. Find out more about the author at his official website.
Posted
on Monday, October 19, 2009 at 06:41AM
by

Dark Scribe Magazine
|

Post a Comment
|

3 References

View Printer Friendly Version

Email Article to Friend
References (3)
References allow you to track sources for this article, as well as articles that were written in response to this article.