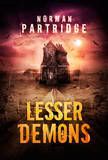 Subterranean Press / April 2010
Reviewed by: Blu Gilliand
If, in writing this review, I was to use the style that Norman Partridge employs in Lesser Demons, I might say something like this:
"Lesser Demons by Norman Partridge is a collection of tales as hard as sun-bleached bone and as sharp as Hell-forged steel. These are stories that dig deep into your gut, claw your heart out of your chest, and force you to watch as it shudders through its last desperate beats."
Partridge's new collection from Subterranean Press is a tantalizing mix of hard-boiled noir and supernatural otherworldliness, combining the genres and styles that cemented his love for words into a unique style all his own. In this book you'll find more than a hint of The Twilight Zone bumping up against the staccato prose of crime fiction and the gleeful insanity of drive-in monster movies. Each of these stories borrows liberally from these influences and more, yet they all stand strong as complete and original works of their own.
Among the standouts is "The Iron Dead," a previously unpublished novella introducing Chaney, a wandering hero in the grand pulp tradition of wandering heroes. Chaney has an iron hand that is literally straight out of Hell, and it serves him well as he clashes with a growing army of flesh/machine hybrids that would send the Terminator crying to his mommy. Partridge moves the story along at a blistering, blood-drenched pace that barely gives you time to gasp for air.
"Road Dogs" is equal parts werewolf tale and revenge story. No moonlit moors or gypsy curses here, just the hot Arizona sun and cold-blooded murder. "The Fourth Stair Up from the Second Landing" is one of the collection's quieter pieces, but it's a powerful ghost story that doesn't have to shout to be heard loud and clear. "Durston" is a western with a decidedly nourish pedigree.
Partridge caps off the book with a feature that I wish more writers would try – a story-by-story breakdown that serves as the author's commentary on the preceding tales. I'm one of those readers who loves getting a writer's insight on his work, and Partridge gives a warts-and-all peek behind the curtain that doesn't disappoint.
Partridge may be best known for his Halloween novella Dark Harvest, but I think that's going to change with the release of Lesser Demons. This is a ferocious piece of work, and should vault the author to new heights of respect and recognition.
Purchase Lesser Demons by Norman Partridge.
Posted
on Sunday, April 11, 2010 at 06:34PM
by

Dark Scribe Magazine
in Single-Author Fiction Collections
| Comments Off

View Printer Friendly Version

Email Article to Friend