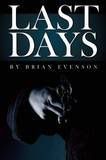 Underland Press / February 2009
Reviewed by: Blu Gilliand
Last Days begins with a mysterious phone call. Two voices, one with a pronounced lisp, demanding that a police detective named Kline give them the details of his recent, brutal encounter with a man dubbed "The Gentleman with the Cleaver." They want to know if he flinched when his hand was cut off. They want to know why he used a hotplate to cauterize the wound before taking off after the "Gentleman."
From there, the book gets weird.
You have to give big, big kudos to an author that can write about a cult whose doctrine calls for multiple amputations as a sign of a follower's faith, and can actually infuse the idea with enough pragmatism to have it make a twisted kind of sense. And then he can throw in another cult whose beliefs are more restrained but no less insane, yet its followers remain believable and even sympathetic.
Brian Evenson is one of those authors. And while I'd never read any of his work before, Last Days has made a believer out of me.
Last Days is the first printed shot out of the gate for Underland Press, the publisher best known (until now) for hosting choose-your-own-adventure-style novels by Kealan Patrick Burke and Jemiah Jefferson on its website. With Evenson's book, Underland has shown that its eye for talent is a strong one.
Evenson may not be a household name, but he's got eight books and an O. Henry Award under his belt. With Last Days he proves the pedigree is no joke. The story rips along at a blistering pace, dropping the reader headfirst into a dizzying, noir-ish tale of murder, secrets, double-crosses, and the paralyzing power of faith. He regularly turns phrases that make you want to stop and savor them, but the tale refuses to let you linger; you simply must turn the next page and see what's going to happen next.
Last Days was originally published in 1993 as a novella titled The Brotherhood of Mutilation. That the story has been expanded from its original length, yet still feels as lean and mean as a good short story, is a high compliment to the writer's skill. Don't let unfamiliarity with the publisher or the author stop you from giving this one a shot; Last Days is poised to put both Underland Press and Brian Evenson firmly on the map.
Purchase Last Days by Brian Evenson.
Posted
on Thursday, April 2, 2009 at 11:08AM
by

Dark Scribe Magazine
in Small Press Chills
| Comments Off

View Printer Friendly Version

Email Article to Friend