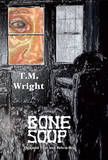 Cemetery Dance / Fall 2009
Reviewed by: Blu Gilliand
Bone Soup is subtitled "This and That and Bric-a-Brac," a perfect description of this eclectic mix of stories, poems and artwork by the multi-talented T.M. Wright. Like any good soup, this collection takes a variety of ingredients and melds them into a rich, satisfying dish with a taste all its own.
Because I don't read a wide range of poetry and am far from a connoisseur of art, I will leave the examination of those portions of Bone Soup to those with more educated, discerning tastes. However, I can appreciate a good short story, and while Wright's material rarely strays into familiar territory, none of the pieces presented here are any less effective for it.
Wright dwells in all kinds of genres with these stories – romance, mystery, redemption, even time travel – but does so with tales that are not the usual plot-driven excursions from Point A to Point B; rather, these are focused examinations of singular, defining moments, decisions and events in the characters' lives. Reading these stories is akin to being a T.M. Wright character – you find yourself thrust into unsettling situations, confused as to how you got there and slowly realizing that, as bad as things are, they are apt to get even worse.
The centerpiece of this collection is the novel Cold House, a work that exemplifies Wright's unique style by employing a constantly shifting timeline and point-of-view. In the hands of a lesser talent, these choices would be off-putting and gimmicky; in Wright's hands, they are integral in pulling readers deeper into the story.
The nightmares in Bone Soup are refreshingly removed from the world of faceless killers with bloody knives, the kinds of fears that we easily laugh off in the sunshine. These are the deeper, more primal fears of loneliness, of failure, of the inability to escape the mistakes and misdeeds of the past. It's a true talent that can confront you with these fears in such a way that, disturbing as they may be, you can't help but turn the page and ask for more.
Purchase link for T.M Wright's Bone Soup coming soon.
Posted
on Thursday, April 2, 2009 at 01:18PM
by

Dark Scribe Magazine
in Single-Author Fiction Collections
| Comments Off

View Printer Friendly Version

Email Article to Friend