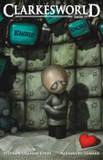 from Clarkesworld Magazine #17 / February 2008
Reviewed by: Vince A. Liaguno
Stephen Graham Jones is a thinking man's writer who possesses the uncanny ability to lay all of his cards out on the table yet keep readers from seeing his hand. His cerebral works tease and titillate the little grey cells, and you're never quite sure if you've gotten everything he's packed into his refreshingly highbrow prose. If you haven't read his last novel - 2006's Demon Theory - then you've missed out on a work of genuine literary innovation with its wildly experimental film treatment-within-a-novel narrative and annotated celebration of pop culture.
"Captain's Lament," from the equally academic-leaning Clarkesworld Magazine, reminds readers what true originality is in an often cliché-ridden genre. Using a first-person narrative structure that captivates from the opening paragraph, "Captain" tells the story of a hospitalized merchant marine whose convalescence is the nautical equivalent of being landlocked. As the protagonist's agonizing period of recovery draws out and he begins to sink deeper into himself, a (seemingly) kindly nurse offers the venerable seaman a glimmer of hope and understanding. But before the reader is able to peg this as a run-of-the-mill creepy nurse tale, Jones deconstructs his story – twisting and turning the narrative so that by the time readers find themselves revisiting familiar urban legend territory, they've been thrown gloriously off guard.
As in Demon Theory, nothing is what it really seems in "Captain's Lament." Jones richly layers the story with alternate truths and realities that will catch readers blissfully unaware – and perhaps leaving them scratching their heads with thoughts of "Did he just…?" In Jones' macabre fictional worlds, it's all up for grabs. And the best part is he tells us everything up front - with a sly wink.
Read "Captain's Lament" by Stephen Graham Jones in Clarkesworld Magazine.
Posted
on Monday, February 4, 2008 at 03:17PM
by

Dark Scribe Magazine
in Short Fiction Reviews
| Comments Off

View Printer Friendly Version

Email Article to Friend