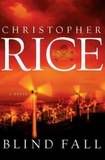 Scribner / March 2008
Reviewed by: Vince A. Liaguno
The past's collision with the present casts lingering shadows on the future in Christopher Rice's latest thriller, Blind Fall. In a bold departure only hinted at in his previous novel Light Before Day (2005), Rice takes on the military and a straight protagonist in this breakneck-paced psychological thriller. Blind Fall tells a classic military-themed story of redemption and revenge against the contemporary backdrop of the Iraq War and its aftermath on the brave soldiers who serve – all wrapped up in the intricately layered narrative style for which Rice first garnered both fans and critical notice with A Density of Souls (2000) and The Snow Garden (2001).
John Houck is a man haunted by his past – the specter of his younger brother's suicide, an estrangement from the sister who raised him, and the guilt over a critical mistake made during a special ops mission that left Mike Bowers, the venerated captain of his Force Recon Company, badly injured. Struggling to assimilate to civilian life, Houck decides to pay a long-overdue visit to his former captain only to stumble across a grisly murder scene and the unlikely revelation of Bowers' homosexuality. Houck soon realizes that Alex Martin, Bowers' male lover, was the intended target and that the local authorities may have more than just a passing interest in the case. In order to posthumously repay his debt of honor to Bowers, Houck decides to protect Martin despite mounting odds that include a disappearing corpse, a police manhunt, and the collapse of his own belief system.
Aside from one extended passage concerning Martin's survivalist training that reads like a gay version of G.I. Jane meets A Few Good Men and threatens to overstay its tenuous welcome, subplots converge tidily, if at times improbably, in Rice's patented tension-filled denouement. Wisely, Rice plays down the homoeroticism of previous efforts like Density and Snow Garden in favor of tension that originates from the circumstances his characters find themselves in – thus avoiding what could have too easily become a straight-gay military fantasy in print. It's a further sign of the welcome literary maturity readers glimpsed in Light.
As in his earlier New Orleans-set Density and New England-set Snow Garden, setting plays a key role here – a full-fledged minor character among the well-stocked ensemble. Rice has a keen eye and obvious appreciation for the dichotomous California locations that serve as set-pieces for Blind Fall's action – from the log cabin charms of mountain towns to the north and opulent seaside resorts dotting coastal lines to the south to the arid, windmill generator-strewn desert in between:
John returned his attention to the road; up ahead he saw the trailer Patsy has described. It sat behind a chain-link fence. The walls had been painted baby blue, and there was a children's playground in the front yard, in the shadow of an enormous, multibranched Joshua tree. Ribbons of various colors had been tied along the top of the front fence. There was nothing that spoke more to him of the desert than a run-down trailer whose owner had gone to every pathetic attempt to dress it up that she could afford. In Louisiana, nature itself would bring canopies of greenery to the most impoverished of homes. In the desert, the unforgiving light allowed hardship few disguises.
Thematically, Blind Fall is a mixed bag, and one could almost fault Rice for over-ambition if he hadn't kept the myriad themes so well-balanced and in-check. While misconceptions, denial, the ravages of guilt, and homophobia remain poised on the periphery of Rice's thematic landscape, it's his sharp yet subtle observations on codes of honor and gay military service that stand front and center. And while one can almost imagine the heavy-handedness with which a gay writer writing about the hypocrisies of gay military service in America could weigh down the prose, Rice instead opts for a remarkable restraint here, rendering his commentary with an understated poignancy:
He froze when he saw that the dark mass gathered at the bottom of the box was Mike's dress blues, several gold buttons staring up at him like coins in the bottom of a grime-covered fountain. Their condition, as well as their position, beneath tattered hardcover novels and framed diplomas, was too appropriate a symbol of what had become of Mike's life for John to linger on them for too long.
Depicting how Mike Bowers' exemplary military service is systematically written off by his parents and overshadowed in the media by the revelation of his sexual orientation, Rice discounts the military as an institution that holds honesty as one of its core tenets and exposes the don't ask, don't tell policy for the whitewash of truth that it really is. Even in his acknowledgements, Rice thanks only the nebulous "several Marines" with whom he consulted on the book, acknowledging that to mention them by name might imperil their good standing. It's in this intrinsic sadness at the heart of Blind Fall – both in the idea of a fallen Marine and in the notion that he fell alone – that imbues the book with its emotional depth.
Blending elements of psychological suspense with straight-ahead crime noir while generously stacking his literary deck with layers of mystery, Rice fashions a tense military-edged thriller reminiscent of In the Valley of Elah that's interspersed with shades of Dennis Lehane's Mystic River and John Morgan Wilson's Rhapsody in Blood. Addictive from page one, Blind Fall will catapult readers into a dizzying freefall of anticipation that gains in momentum with each successive turn of the page.
Purchase Christopher Rice's Blind Fall.
Posted
on Monday, February 4, 2008 at 03:25PM
by

Dark Scribe Magazine
in Book Reviews
| Comments Off

View Printer Friendly Version

Email Article to Friend