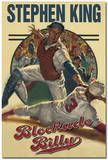 Cemetery Dance / April 2010
Reviewed by: Blu Gilliand
It's a well-documented fact that Stephen King loves baseball. The avid Boston Red Sox fan co-wrote Fatihful (with Stewart O'Nan) chronicling a season with his favorite team, featured a former Red Sox player in his novel The Girl Who Loved Tom Gordon, and wrote "Head Down," a lengthy essay about his son Owen's Little League team that was reprinted in his collection Nightmares and Dreamscapes. So, while publisher Cemetery Dance's recent announcement that they were releasing a new novella by King in April was a surprise, the fact that it's about baseball should be less of a shock.
Blockade Billy is the story of William Blakely, a rookie catcher for former major league franchise the New Jersey Titans. Never heard of them? That's because they've been relegated to footnote status, while Blakely himself has been scrubbed from the record books entirely. The reasons why are the subject of this tale, as told to a "Mr. King" by our narrator, former Titans third base coach and equipment manager George "Granny" Grantham.
When it comes to bringing the voice of common working Joes to life, nobody is better than King. Granny is from the old school, back when ballplayers made less than high school teachers, and he proves to be an engaging storyteller as he guides us through Blakely's short career.
Blakely comes to the Titans when the team's two catchers go down in the preseason – one to injury, the other to the law. Meant to be a fill-in until somebody else – anybody else – is available, Blakely proves to be a solid hitter and an unmovable object behind the plate. But something's off about the player (who, by the way, wears number 19 – a number that should be familiar to fans of King's Dark Tower series). He talks to himself, for one thing, and refers to himself in the third person. ("Yeah, Billy can hit here," he says upon seeing his new team's home field for the first time.) But his secrets run darker and deeper than anyone on the team can imagine.
King has done some of his best work in novella form, and while this may not rank as high as "Rita Hayworth and the Shawshank Redemption" or "The Body," it's a fun read. King's love of the game infuses every page, and he's clearly having a blast inhabiting the veteran voice of Granny. Cemetery Dance has given baseball fans and readers alike a fantastic season-opening gift in Blockade Billy — snag one while you can.
Purchase Blockade Billy by Stephen King.
Posted
on Sunday, April 11, 2010 at 06:42PM
by

Dark Scribe Magazine
in Small Press Chills
| Comments Off

View Printer Friendly Version

Email Article to Friend