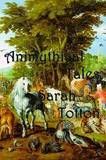 Fantastic Books / February 2010
Reviewed by: Michele Lee
Slim and unexpected, Animythical Tales by Sarah Totton is a collection of ten tales that have formerly graced the pages of venues like Realms of Fantasy, Fantasy & Science Fiction and Polophony 7. Totton herself is a skilled writer who pens vivid tales of surreal fantasy.
Being far more fantasy than horror immediately puts this collection outside the tastes of the average horror aficionado, however there's no denying there's a dark element to some of Totton's tales. "The Teasewater Five", for example, tells a fanciful tale of a dark nature, centering on a woman who, with the help of her brother, creates a miniature, animated sculpture version of her stillborn son with unexpectedly negative results.
Picking standouts is difficult since all Totton's stories are tempered with strengths of skill and even-timing, as well as settings and characters that stretch the imagination. Favorites are easier to choose, and they include the short, straightforward, yet strikingly dark "The Man with the Seahorse Head", a musing on the nature of parenthood, and "Bluecoat Jack", a tale about the kind of people who trade away their very being to become art.
The stories in Animythical Tales are lyrical and off-beat, betraying a near trademark British precision evocative of masters like Ramsey Campbell. Totton has an almost whimsical take on dark fiction that is both disturbing and enchanting. Readers looking for more fiction outside the traditional horror box will undoubtedly enjoy this one.
Purchase Animythical Tales by Sarah Totton.
Posted
on Tuesday, July 27, 2010 at 10:36AM
by

Dark Scribe Magazine
in Single-Author Fiction Collections
| Comments Off

View Printer Friendly Version

Email Article to Friend