Question: What are the Black Quill Awards and how can I get my work included as a nominee?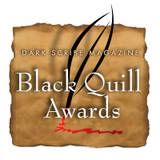 Answer: The Black Quill Awards is DSM's annual literary awards program, honoring editorial and reader favorites in the fields of horror, suspense, and thrillers. In addition to (6) categories for literature, the Black Quills honor achievements in cover art and design and book trailers.
Dark Scribe Magazine does not solicit nominations for its annual awards program, nor are there any fees associated with the Black Quills.
Although our editorial board and contributing writers are active readers and/or writers in the field and are widely aware of dark genre books published, authors and/or publishers wishing to ensure the visibility of a specific title (especially in the case of small press offerings and works of short fiction) are encouraged to take advantage of our reviews program throughout the year. By submitting materials for our review (whether a review is published or not) will guarantee that a title is brought to the attention of someone on our staff. Again, submission of review materials is not a prerequisite for consideration in the Black Quills. In the case of book trailers, authors, publishers, and agents are strongly encouraged to take advantage of DSM's free book trailer repository by featuring your video. See details above.
Posted
on Sunday, November 4, 2007 at 08:43AM
by

Dark Scribe Magazine
| Comments Off

View Printer Friendly Version

Email Article to Friend