By, Vince A. Liaguno
"Kenyon shifts smoothly between '80s-style supernatural horror and modern-day science thriller in this superb sophomore effort…readers, left breathless, will hope he makes good on hints of a sequel." – PUBLISHERS WEEKLY
He's an unassuming corporate suit from 9 to 5 and an early evening help-with-the-homework Dad. On weekends, he putters around the garden and works on home improvement projects. Somewhere, in between, he finds precious hours to hammer out creepy novels that garner award nominations and five-star reviews.
His name is Nate Kenyon.
If his name didn't blip on your literary radar with Bloodstone, his 2006 Bram Stoker Award nominated debut, then it's about to. The Reach is Kenyon's eagerly-anticipated follow-up, one that seems poised to circumvent the dreaded sophomore slump with its strong advance word.
Dark Scribe Magazine caught up with the decidedly down-to-earth up-and-coming horror maestro just before the promotional blitz for the new book begins.
Dark Scribe Magazine: Tell us about The Reach.
Nate Kenyon: The Reach is about a 10 year old girl, Sarah, who has been locked away inside a children's psychiatric facility for most of her life, and a graduate student, Jess Chambers, who is assigned to work with the girl in an attempt to bring her out of her shell. Jess is a brilliant but flawed young woman who has spent most of her life trying to make up for her autistic brother's death from a tragic accident years before, an accident she views as her fault.
In her first few interactions with Sarah, Jess realizes that this is no ordinary little girl, and that something much larger and more sinister is at play in the facility where Sarah has been committed. She finds herself thrust into the middle of a battle over one of the most explosive genetic discoveries in the history of mankind.
Every move Jess makes draws her deeper into a complex web of deceit, making her question her own strength and resolve, until finally she must make a choice; walk away from yet another young child she has come to see as her responsibility, or fight overwhelming odds to stop those who see the girl as nothing more than a tool that must be kept and controlled no matter what the consequence.
I'm very pleased to say that The Reach just received a starred review from Publishers Weekly, which called it "superb" and said "readers will be left breathless."
Dark Scribe: What can fans of Bloodstone expect in terms of similarities and differences with the new book?
Nate Kenyon: This is a very different book than Bloodstone, both in subject matter and style. It's a leaner, faster read, more dialogue driven. I think it's the best writing I've ever done, and I'm very thankful early feedback seems to agree. With Bloodstone, my goal was to write an old fashioned, over-the-top gothic horror novel. With The Reach, I wanted to take a traditional horror plot, and approach it like a techno-thriller. The result is (I hope) a dark and creepy version of a Michael Crichton style novel.
Dark Scribe: Speaking of Bloodstone, your debut novel was critically well-received and made it to the final ballot of the prestigious Bram Stoker Awards. Did that add pressure to come up with a worthy follow-up?
Nate Kenyon: Only in the sense that The Reach is probably not, in many people's minds, your traditional horror novel. But I think the writing itself is far more mature and polished. I wrote the first draft of Bloodstone when I was 25, over ten years ago now. I think I've come a long way since then. I'm more confident in my abilities and understand a lot more about the mechanics of writing a novel, and I think that shows in The Reach.
Dark Scribe: Who was your favorite character to write in ?
Nate Kenyon: Oh, boy, what a great question. I have a lot of favorite characters in this book — even the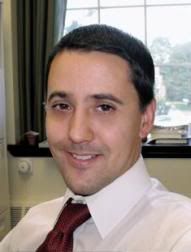 villains, because I made a real attempt to portray them as human. You might not like them; in fact, you will probably hate them intensely. But I hope that by the end, you'll understand why they did what they did.
That said, if I had to choose one, I would have to say Jess Chambers, because she is the backbone of the novel, the flawed hero, and one of the strongest female characters I've ever created. I love her energy, her bright mind, her determination, her goodness. She's ruled by a very rigid idea of right and wrong, and will let nothing stop her from accomplishing her goal. She really came alive for me when I wrote it, and I do feel like I know her. I'd like to continue her story someday soon.
Dark Scribe: Although you live now in Boston, you grew up in Maine. Alright, we have to ask: What is it about Maine and its influence on horror writers? Is there a secret society with rules mandating Maine residency at some point in a dark scribe's life?
Nate Kenyon: Yes, there is a secret society, but now that I've told you, unfortunately I'm going to have to kill you…
I do think that there's something about Maine. There's a lot of dark, deep woods up there, and the sense that at any moment something could come out of there and get you. It's darker and colder in the winter, and the long nights and isolation do have an influence. I've written about this before, but there's this feeling that, even if you live near another house, you're sort of on the edge of the unknown, the edge of the wilderness. And that leads you to think more about the loss of civilization and what that would mean. We're not all that far removed from living in caves, really.
Dark Scribe: You're one of a surprising majority of working writers who juggle full-time jobs, raising families, and writing. What's your secret for finding enough writing time between a 9-5 job and three small children to turn out two novels now?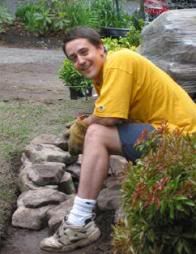 Nate Kenyon: You just do it. I wish there was a magic formula, but it's really about commitment to this thing you want to do, and making it a priority. I get my kids off to school in the morning and work all day, then come home, pick them up and have dinner, get them into bed, and around 9 pm I try to settle in and spend at least a couple of hours working on writing projects.
Dark Scribe: If you had your choice of either, which book would you most like to see turned into a film and why? Who would you envision in the principal roles?
Nate Kenyon: The Reach, hands down. I just think it's made for film. If I had my choice, I would cast someone like Anne Hathaway as Jess – a young and beautiful woman who can portray a confidence and vulnerability at the same time – tough shell, but inside she's constantly questioning and pushing herself. Sarah would be difficult, because this would be a very demanding role for a girl that age — Dakota Fanning would be perfect, if she's not too old now for the role.
Dark Scribe: You had a rough childhood — losing both of your parents at a young age. Did that sense of being left behind by the two people expected to see you through to adulthood affect your development as a writer?
Nate Kenyon: Absolutely — it affected my development in every way. In terms of my writing, it turned darker, more moody. Before my parents' death I wrote Black Beauty and Hardy Boys rip-offs; after, I started writing supernatural horror and suspense.
Dark Scribe: From what we've read, your mother, Pamela Kenyon, seemed particularly unconventional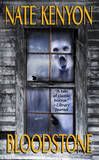 and somewhat ahead of her time in terms of environmentalism and alternate energy sources. You described her brave and valiant battle with ovarian cancer and how her spirit helped her defy some pretty grim odds. Then you announced a few months ago on your website that you'd be donating every penny earned from sales of Bloodstone to the American Cancer Society in memory of your mom. Care to share with our readers a bit more about that and how they can support this important cause?
Nate Kenyon: Well, I just felt that what I had explored in that book, consciously or unconsciously, had to do with what happened to my mother. It just struck me that the entire novel could be read as a metaphor for cancer; in White Falls, the very ground is described as foul, run through with a sickness…the main character Billy Smith is haunted by nightmares of his mother, who had died of cancer, coming back from the grave. The interesting thing about this is that for the most part, I had no idea how much of that stuff was creeping into the book while I was writing it. I remember reading the draft and going "wow." Definitely an exorcism of sorts.
Anyway, when it hit shelves in paperback I was thinking a lot about my mother and it just struck me that this was the thing I needed to do, to honor her. It just seemed right. Of course, I had many plans to do even more, but I have been so busy I haven't followed through with much, other than the donations. I'd thought of doing an anthology to raise more money, but Shroud Publishing, inspired by what I'd done, announced a charity anthology called Northern Haunts and asked if I wanted to be a part of it. Sounded perfect to me! So that's hitting stores soon.
The best way to support this is simple: make a donation to the American Cancer Society, and do it right now. Don't waste a minute, just go there right now and give something, anything. Every penny counts. It's a vicious disease that tears families apart, but we're making progress. We need more research to wipe this disease off the map.
Dark Scribe: Lessons learned between the first and second books that might help up and coming writers?
Nate Kenyon: Make the most of your opportunities. Marketing is very important, but don't neglect your writing: if you don't write new books, you aren't going to get very far. And stay as steady as possible. Writing is an up and down business, and you're likely to go from feeling on top of the world one minute, down in the dumps the next. It's important to try to stay grounded.
Dark Scribe: What's next after The Reach? Care to drop a hint or two for our readers about the next Nate Kenyon book?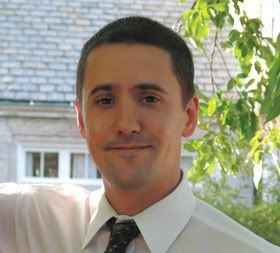 Nate Kenyon: First of all, I've got a really, really cool sci-fi novella coming from Apex Books called Prime. It's about a grizzled gun for hire brought in to solve a series of technology-related murders who discovers that the killer is much more than just a bug in the system. I love this story and I really think there's no question that it's the best thing I've ever done. I can't wait to see the reaction from readers. That should hit shelves in late spring or early summer.
And then my third novel, The Bone Factory, will come from Leisure in July 2009. This one marks a return to the style of Bloodstone, and it's about a young family that moves to the wilds of Canada and runs into a lot of trouble. I won't say any more right now…
Dark Scribe: Let's borrow a page from Desperate Housewives, which recently flashed forward five years. Flash forward five years and describe the life of Nate Kenyon.
Nate Kenyon: I hope I have another five or six novels under my belt. I hope I've hit the bestseller lists and I'm able to write full time. That's my dream, but if I can just keep writing and keep selling books, I'll be happy!
For more information about Nate Kenyon, visit his official author website.
Purchase The Reach and Bloodstone.
Posted
on Saturday, November 1, 2008 at 01:23PM
by

Dark Scribe Magazine
in Authors
|

Post a Comment