By, Derek Clendening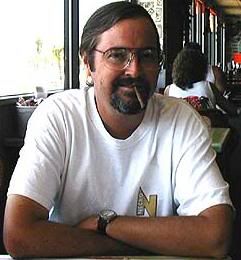 Very often, readers and aspiring writers like to guess what their favorite horror author is really like in person. Even those who've rubbed shoulders with authors in the field might still ask: are they really that sadistic in real life? Fans of Edward Lee might be surprised to learn that he's as much of a mild-mannered regular Joe as the dude sitting next to them at the bar. A self-described "writer-in-the-trenches," he pounds out a solid 1,000 words a day and spends the rest of his time either walking on the beach or watching the baseball ticker with his buddies.
With well-received titles such as City Infernal under his belt and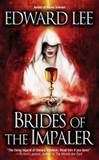 his latest, Brides of the Impaler, now in bookstores, Lee has established himself as a writer with broad tastes and talent. When Dark Scribe Magazine sat down to chat with Ed Lee, we set out to ask him what motivates him to write his unique brand of horror, and how horror sets itself apart from genre fiction as a whole. In some cases, his answers generated some genuine surprises.
In looking over Lee's bibliography, one can quickly determine that – like many mass-market horror authors – he is also quite popular among the small and specialty presses. Though he still writes original fiction for the specialty press, the definition of horror between the two mediums can be deceivingly different. With this in mind, the first question that struck us was if he reserves specific ideas for his mass-market versus his small press output. "For 15 years, I've been waiting for someone to ask me that question!" he says ecstatically. "The answer is indubitably yes, though I might not use the word reserve." Lee says that story ideas strike him spontaneously and that he knows right away which market the story will likely be most appropriate for.
He elaborates by explaining the difference between the two markets. "There's a huge difference between the small press and mass market, conceptually and even mechanically," he says. "What many critics, editors and publishers don't understand is the difference between the mass market audience and the small press audience. Both have entirely different expectations and this is the part that people don't understand for some reason. Critics especially."
To Lee, such critics take the attitude that anyone who writes small press horror "grosses things up" simply for the sake of doing so. His fundamental disagreement with that stance is that many of his works require some level of violence and bloodshed to be effective. He notes in particular that his books The Minotauress and The Bighead cannot be revised, or "degrossed" for the mass market audience.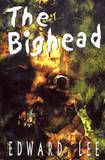 For Lee, the foundations of these novels are built upon an essential level of grotesquerie. On the other hand, he feels that blood and guts would ruin his more subtle tales. "Without the violence," he explains, "The Bighead would be a very boring novella about a monster in the woods. On the other hand, adding the over-the-top gross-out to a book like City Infernal would so interfere with the book's pacing that it would be unreadable for its mass market readership."
The difference between small press and mass-market horror having been established, Lee reminds us that "hardcore horror" is a sub-genre within the small press. "And it's a small market compared to the nationally distributed mass-market books," he says. "Nothing could be more apparent to me after nearly 20 years of doing this: mass-market readers thrive on fast action, linear plots, and relatable characters — whereas hardcore horror readers thrive on the adornments of integral grotesquerie." He stresses that "I've never grossed something up just for the sake of being gross; to do this immediately causes the work to fail the first smell test. The work will stink!"
In relating these market differences to his readers, he says "My small press readers have entirely different expectations than my mass market readers. In hardcore horror, the brain is the concept, the bones are the plot, the muscles are the characters, but the extremity is the blood. In mass market fiction, the blood is pacing."
For many readers, associating one author with other authors whose work is in the same vein seems inevitable, particularly in the horror field. In Lee's case, he is often compared to Jack Ketchum and the late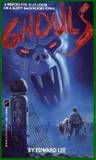 Richard Laymon. Such comparisons seem fair, considering he shares their visceral, gritty style. Moreover, both are often credited with being vital forces in the splatterpunk movement. When asked about his contributions to this particular sub-genre, however, Lee asserts that he was not as much of a force behind the splatterpunk movement as he has been credited. "I don't know if I was ever part of the spatterpunk movement, which began in the late-80s with wonderful writers like Skipp, Spector, and Schow. I merely showed up at the same time, writing Ghouls." He adds, "Does splatterpunk even exist anymore? I remember that most authors associated with it hated that tag, but it did seem to possess a new 'hip' kind of style. You ask me, it's still simply horror fiction. Where I seem to be more notable is with the collectors and cult market via my hardcore material. It's something I'm grateful for and thrilled by. Why this is the case, I'm not sure, but I'll be pompous enough to hope that perhaps the way I creatively address the property is something that continues to satisfy that particular readership, because I know what I'm doing. Christ, I'm 51 years old now, and I've been doing this since before I was 30."
Similar to hearing critics rant about hardcore writers "grossing things up", writers like Lee have also dealt with tags like "torture porn". When we asked him if he was offended by the term, we were surprised to see how easily he shrugs it off. "Well, terms are terms and they seldom last. Slapping tags onto different types of fiction – or treatments of fiction – doesn't seem serviceable ultimately. Readers know what they tend to like, period. If torture porn is gratuitous then it doesn't serve the reader at all, and the reader will get pissed and not buy it anymore. However, if a book evolves into torture and pornography and it's well-done, then it's simply a good book." Then he says, "Frankly, most of it's so poorly conceived that it doesn't shock the reader in any entertaining way, it merely bores the reader, and it's never provocative. I love hardcore horror, but there's nothing worse than hoeing through gratuitous torture prose that exists only for its own sake."
Violent and gory material has been far from Lee's only literary passion. His Infernal series has proven a broad contrast to his hardcore works.
DSM was particularly interested to learn how he created the landscape of his literary hell and how the idea of stereotypes plays into it. His answer dispels many misconceptions about the work and how he approached the landscape. As Lee explains it, "The basic creative terrain of these books occurred to me almost instantly: considering how human civilization has evolved over the last 5000 years, how much would hell have evolved as well? Many books begin as questions like that — though I'll disagree that my terrain is stereotypical. The stereotypes all seem to depict Hell as it's always been depicted: a fire-and-brimstone pit full of demons with pitchforks…very Biblical. I wanted mine to be as different from that as possible; hence the Mephistopholes. Hell has now evolved into a pandemic metropolis. It's a netherworld that never ends, and writing stories in it never loses its fancy for me."
Lee's latest Leisure release, Brides of the Impaler, is a venture into un-chartered territory — the vampire novel. In doing so, he has dabbled in some of the familiar, notably by touching on some religious themes. He admits that the work contains some religious innuendo, but he also believes that doing so is no different from how horror has operated for decades. He says, "If you read the Bible carefully – try, say Leviticus! – man, there's a whole lot of horror going on!"
Luckily for him, he hasn't suffered any backlash from church organizations or any of its factions for either Brides of the Impaler or for the Infernal books. "I'm not surprised," he says. "Why would they be upset? I merely write books. And, in essence, if you read between the lines, aspects of my books are very God-positive. If anything, the Church should be happy with me! But, just like politics, I don't believe that it's an escape novelist's place to either jam religious or anti-religious sentiments down the reader's throat. The only thing I ever say publically about religion, when asked, is that I'm either an existential Christian or a Christian existentialist."
Surprisingly, Lee reveals that very little research went into writing Brides of the Impaler. He says, "It was just the primary stuff about the historical Dracula, which is best defined in Radu Florescu and Raymond McNally's quintessential reference Dracula: Prince of Many Faces. However fascinating, it's just basic stuff that goes back to the Holy Roman Empire's wars with the Ottoman Empire in the 1400s."
Even more surprising is the novel's subtlety in contrast to many vampire novels in the field. When DSM asked if he saw a benefit in taking a different approach to vampires, Lee says he took the stance of a true outsider to the sub-genre. "My main motivation for writing the book was the personal challenge. I'm not a fan of vampire novels; therefore, I wanted to write my own, Edward Lee-style, because I wanted it to move some very different treatments while still, hopefully, being of interest to vampire fans. In that sub-genre, there seems to be too many vampire strippers, vampire Goths, and vampire rock stars. Ah, but vampire homeless junkie prostitutes being led by the subcarnate and very succubic spirit of Vlad Tepes' concubine?" Admittedly, not so much. He adds, "The idea titillated me. I'm very happy with the book, but I might have taken a chance on writing it: the last thing my audience might expect [from me] is a vampire novel."
Lee admits that the novel is a very erotic one and that he thoroughly enjoyed exploring New York City, which has been an unexplored setting for him until now. "I hope people like it, especially the scene where Canessa's acolytes urinate and vomit on Father Rollin's abode. I tend to always build on a formulaic foundation for my mass-market novels and then veer the concept down a different road. I've done my spin on the haunted house (Flesh Gothic) and the monster-in-the-woods (Monstrosity, Ghouls) and, well, now it's high time I did my spin on the good 'ole vampire novel."
Before wrapping up our chat, we make certain to ask him about his non-literary accomplishments. When asked if any of his works have been optioned for film, he says that he's had one — and that he'd never expected Header to be adapted into a movie. He explains, "It came about by a sheer fluke: a guy I'd never heard of contacted me about the rights. Said he wanted to buy them right off the bat and skip the option part." For Lee, there were absolutely no reservations about selling the film rights, and thus Header – the movie – was born."
He's quick to add that although he had no involvement with the film's production, he says he was thrilled to realize that the scriptwriters and producers remained completely true to his story. And, for Lee fans, the movie is complete with a cameo appearance by both the dark scribe himself and his longtime friend, Jack Ketchum.
Having a film under his belt is just one example of how far the man's talents can stretch, and surely Lee fans hope that it doesn't end there. Though he keeps himself humble by saying that he merely writes for a cult following, few fans will underestimate what Edward Lee is capable of.
To learn more about Edward Lee, visit his official author website.
Purchase Edward Lee's Brides of the Impaler.
Posted
on Wednesday, October 22, 2008 at 10:13AM
by

Dark Scribe Magazine
in Authors
|

Post a Comment