Deena Warner has become something of the "go to girl" when it comes to web design and illustrations for dark genre writers. Her growing client list includes masters of the macabre Gary Braunbeck, Michael Laimo, Bryan Smith, Lee Thomas, and Simon Wood, and she's designed websites outside the genre for the Jazz Museum of Harlem and to promote the 30th Anniversary edition of Alex Haley's Roots. Her illustrations have graced myriad book covers and interiors, and one is hard pressed to find a dark genre Internet banner not designed by her.
Somewhere between juggling her plethora of professional projects, Warner found time to sit down with Dark Scribe Magazine to discuss the technical challenges to remaining at the top of her game, what makes and breaks good author websites, and how an encounter with a costumed stranger changed her life for the better one dark Halloween night.
Dark Scribe Magazine: Tell us a little about your background. Where did you study art and design?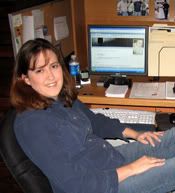 Deena Warner: I got a degree in illustration at the University of North Carolina at Charlotte. I actually started as an architecture major because I wanted to have a career that used my two favorite things: art and math. But once I realized that architecture wasn't the path for me, I pursued illustration. I took all the computer electives I could, like electronic media and interactive design. I took a free website design seminar at the public library just for the fun of it, and I really enjoyed it.
Once I graduated, I started a career in graphic design. My boss came to me and said, "This new client wants us to design a website. Have you ever done website design?" Always up for a challenge, I said, "Sure! I can do that." So I became the interactive division of my design firm. After doing it professionally for eight years, I decided to branch out on my own. I've come full circle, because now website design does indeed use art and math.
Dark Scribe: What attracts you to the darker genres?
Deena Warner: I'm a firm believer in not censoring anything. The darker genres aren't afraid to push the limits and
explore topics that some other genres shy away from. There's not a feeling that anyone is holding anything back. I want to get to the real dirt of any situation, not the sugar-coated version. Horror always peels back the skin (so to speak) and shows you the gruesome truth.
It's interesting – when it comes to movies and plays, I generally like the light fluffy stuff better: romantic comedies, musicals, chick flicks. I don't even really like most horror movies. But when it comes to literature and music, I really gravitate towards the darkest works. Give me a hardcore Refused album and a weighty gothic novel any day of the week.
Dark Scribe: What are your biggest challenges as a web designer?
Deena Warner: I think the biggest challenge is just staying on top of all the emerging media. I come from a design background, and my strengths lie in making the sites pretty. When people ask for certain technology on their sites, I often don't know how to do it. I research the scripts online, do a lot of trial and error. I do a lot of learning on the fly. But every new thing I learn is another tool to keep in my toolbox for the next site I build.
Dark Scribe: Lots of differing thoughts out there about writers and the importance of author websites. Do you think it's essential for writers to have an Internet presence? If so, do you think there's any added importance for dark genre writers to maintain a web presence?
Deena Warner: I have seen both sides of this argument, too. Of course, it's in my best interest to insist that authors need websites!



Website designed for author Mike Heffernan

The simple truth is that an author's talent is the thing that will grant him success. A pretty website can't hide sucky writing. But there are many ways emerging authors can utilize websites. They can post excerpts of their fiction. They can host contests. They can start online communities like message boards or blogs to generate interest in their work. They can provide links to places their fiction is available for purchase. They can put up stories at hidden links for award committees to review. They can simply put a picture with their name and provide some biographical information so an editor gets a clearer picture of who they are as people.
I've seen some amazing things happen through author websites. One of my clients recently passed along a quote from an editor, something like, "I had to take a closer look at your manuscript because I went to your website and it is one of the most beautiful author websites I've seen." The editor went on to purchase her work. I'm not saying my site got her published, but it certainly made her stand out enough to catch this publisher's eye.
Authors of dark fiction, in particular, can benefit from a website because the site can give an immediate visual clue about



Warner's moody design for Livia Llewellyn's website

what type of fiction they write. Horror can mean a lot of things to a lot of people. If your site shows shadows and classy haunting images, you can show that you are atmospheric. If your site shows blood and retro slasher images, you give off a more visceral feel. You can create a visual brand to let people know what you're all about and distinguish yourself from the pack.
Dark Scribe: What are the biggest mistakes authors make with their websites?
Deena Warner: I think they all relate to not being organized. Often viewers don't have a lot of patience, and they only want a few clicks to get the information they need. It should be obvious how to get from A to B on your site. You can still put a ton of information up there, but make sure people understand how to navigate it. keep your look consistent, make your buttons readable, and think about what information people might be coming to your site for.
Dark Scribe: What would you say are the essential elements of a good author website?
Deena Warner: Generally the purpose of any marketing is to sell books. So it should be clear (1) what your books/stories are, and (2) where someone can buy them. Another good thing is some sort of contact information, whether it's an email



Publisher and bookseller Raw Dog Screaming Press boasts a Deena Warner-designed website

address or a contact form. You really never know who might be surfing along and want to contact you. It's nice to have some personal information like a photo or biography so that viewers can get to know you. And in order to keep the site fresh, post new updates on a regular basis. Let people know that you're still chugging along, you're current and hip.
Like I'm one to talk – I haven't updated my own site in a couple of months! (laughs)
Dark Scribe: You're also an accomplished illustrator and book cover artist. What attracts you to certain projects?
Deena Warner: I'm always thrilled to do covers for authors whose work I love. I also get excited about a project when it's obvious that the author and publisher are really enthused and rarin' to go. I feed a lot off of other people's creative energy, so when my cohorts are psyched, I am too.
I also enjoy it when an idea I've had for a while can come to fruition in a new project. Like, when Lucy Snyder's Sparks and Shadows came along, I had been studying the human form and light effects for a while. It was a great match for those skills, since her stories are so grounded in the human – specifically female – experience. I could play off the "sparks" and experiment with light. It's nice when ideas swirling around in my brain can come to life.
Dark Scribe: Any projects you've ever turned down?
Deena Warner: I have turned down a few projects for time constraints. Once, I got offered a position as the artistic director of a magazine, and I declined that. I really didn't feel I'd have the time to devote to it. I'm really lucky to have so many great clients, and I'm staying pretty busy. So I don't always have time to complete something as quickly as it needs to be done.
Dark Scribe: Are there any writers out there with whom you'd like to work – whether designing their author site or conceptualizing a book cover?
Deena Warner: I've already had my artistic wish granted, which is working with Gary Braunbeck on the Cedar Hill collections. That has been a dream come true. I mean, what more could I possibly want after being given the opportunity to do those?
Well, ok, if Joe Lansdale wanted me to do an illustrated limited edition of The Bottoms, I wouldn't say no. That book is phenomenal, and the whole time I was reading it I had clear visions of what its illustrations would look like. That would be pretty awesome.
As for websites . . . it's not specific authors that I'd like to work with, but specific projects. I would like to do a website devoted to local music. I want to do one where authors can blog their dreams and I could post images to go along with them. I want to do one showcasing creepy art done by children. I'm always coming up with websites I want to create one day.
Dark Scribe: If you had to pick one book cover and one web design project to represent you and your work, which would you choose and why?
Deena Warner: The image that came to my mind first was the image I did for the Stoker awards program book last year.



Warner captivated the Stoker crowd with this fitting program design for the 2006 Bram Stoker Awards.

That really reflects how I feel about dark works. I wanted to show that horror can be classy and beautiful. The genre is often branded as juvenile, but I tried to show that it is sophisticated and layered. And it's not all about the boys, either.
A website design project that really shows a lot about who I am is oddstaunton.com . That's a site dedicated to all the cool stuff that we have here in my hometown of Staunton, VA. If you read through that site, you can see photos and mini-essays by me about buildings, restaurants, landmarks and creepy stuff in this area. You can really get a sense of what I'm interested in, like urban exploration, independently owned restaurants, old buildings. You'll see that even the most mundane things are fascinating to me.
Dark Scribe: Which artists do you most admire and draw your inspiration from?
Deena Warner: Some older artists I enjoy are Francisco Goya and Arnold Bocklin. They weren't afraid to show crazy dark imagery. Goya uses loose, gestural marks and dramatic color. You feel his paintings rather than view them. Bocklin has these gorgeous landscapes . . . then you look closer . . . hey, is that the river Styx? Is that a skeleton disguised as a man? He sneaks really disturbing things into seemingly serene scenes.
I adore the work of Chris Van Allsburg. He's a children's author/illustrator (The Polar Express, Jumanji). You can see his direct influence on me in works like the Prodigal Blues interiors. He often works in black and white. He uses dramatic light and shadow. He has mostly realistic scenes with that one surreal touch that makes the entire image supremely eerie. I really dig the animator Hayao Miyazaki, too. His imagination has no bounds. The genre artists I admire most are John Picacio and Caniglia. Not only are those guys supremely talented, they're genuine and supportive to boot. I get a lot of inspiration from their work. I'm thinking of making a bracelet that says "WWJPD?" – What would John Picacio do?
Dark Scribe: You're also married to horror writer Matthew Warner. Does he ever offer criticism or suggestions on your work? Is it important to keep your two different professional lives separate?
Deena Warner: Matt offers a lot of good feedback on work I do. He's never afraid to tell me if something isn't quite working or looks weird. But he doesn't just say, "That sucks," and leave the room. He offers good suggestions and helps me research things until I get the work looking just right.
I also use him a lot for reference photos. You know that red monk on the Noreela website? That's Matt with a towel on his head. I mean, I did a lot of work to it to make it look cool, but that started as a simple photo of Matt.
I think it's good that he's a writer and I'm an artist, that way we're not competing. But I'm glad we're working in the same genre. That way, when we go to conventions, we're each there for our own business. We each have our own reasons for going, so we don't have to worry if the other is having a good time or feeling left out. It works very well for us.
Dark Scribe: Is it true that you first met Matthew at a weekend-long Halloween party thrown by James Newman?
Deena Warner: Yep, that's totally true. I had never even met James before – I was invited by a third party and didn't really know him. I decided to drive up anyway, what the heck. It was supposed to be a 4-hour drive, but a crane fell across the interstate and caused major backups. Then I got lost. I almost turned around and went home several times. After a 7-hour trip, I finally made it there. It was past midnight, and I didn't even know what the host looked like! But everyone was totally cool and showed me around.
At one point, this guy in a cape with white face paint walked by. He stopped, took a few steps back, turned to me and uttered the famous pickup line, "I need help standing up." Being the helpful person I am, I graciously lent a shoulder for him to lean on. That crazy, forward person was Matt, and we talked the rest of the night. I felt really comfortable and happy talking to him, and once I returned home we struck up an email friendship. Here we are almost five years later, happier than ever.
Dark Scribe: Please share with our readers some details about upcoming projects and authors with whom you'll be collaborating.
Deena Warner: The next big illustration project on my plate is the third and final Cedar Hill collection by Gary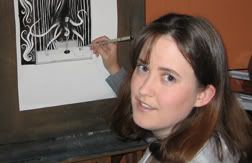 Braunbeck, coming out from Earthling Publications. We're going to do the book and a full-blown Cedar Hill website to accompany it.
I'm finishing up a redesigned website for Stefan Petrucha, author of many young adult titles, comic books and media tie-in novels. I'll be working with author Doug Wright and artist Darren Whalen. I'm also excited about designing a website for my friend Norman Prentiss, who is an outstanding author whose site is way overdue.
There's another major illustration project I'm psyched about. The book hasn't been announced yet, so I can't say anything. I'd tell you, but as they say, I'd have to kill you. But, hey, if I did kill you, could I take a reference photo for my next project? Maybe a blood smear to use as a website background? Aw, come on, please?
To learn more about Deena Warner, her art, and her web design services, visit her official website.
Posted
on Sunday, October 7, 2007 at 07:26AM
by

Dark Scribe Magazine
in Web Designers
|

Post a Comment