By, Vince A. Liaguno

Meet Xander, Hagitha, Presley, Wylie, Manny, Francis, Countess Dragula, and Jack the Stripper. Or, as they're better known in Internet circles...



Earlier this year while writing my weekly column for the gay horror website Unspeakable Horror, I stumbled upon a provocatively titled link and was instantly transported into the colorfully flamboyant world of a new web comic called The Gay Monsters.
The brainchild of illustrator and flash animator Andy Bauer, this delightful confection of camp and flash animation is an instantly addictive queer horror treat. With the irresistibly fabulous tagline "Even the Underworld is One in Ten", The Gay Monsters features Bauer's charmingly conceptualized stable of queer monsters set against some decidedly contemporary queer situations. Bauer's double-entendres fly fast and furious amidst the deceptively simple flash animation and dialogue.
In the teaser trailer, a sulking scarecrow named Elroy is persuaded by a vampire-ish practical joker named Orly to eschew his shift warding off crows in the fields and accompany him to Boogieman's Bulge for 2 for 1 Bloody Mary night. With future installments promising even more colorful additions to this spooktacular cast of characters, I was at once hooked on The Gay Monsters' pure campy genius and found myself screaming with laughter episode after episode.
Dark Scribe Magazine recently sat down with the talented and disarmingly blue-eyed Bauer to chat about art, animation, and the gay monsters in his closet.
Dark Scribe Magazine: Tell us a little about your background. Where did you study art?
Andy Bauer: Well, my first memory of drawing was when I was ten years old. I use to draw all the time. I aspired to be an animator. So, when I got to High School, I studied Art for four years and was the resident cartoonist for several local school papers.
Then I studied Graphic Design at Ohio University for two years before taking a long hiatus from college to perform as a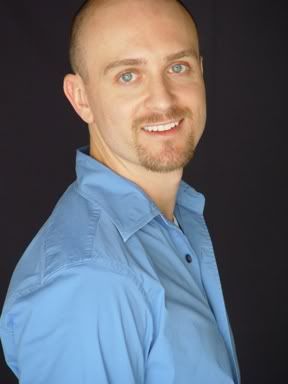 professional dancer. I traveled the U.S. and the Caribbean and finally settled in Florida when I landed a dancing gig at Walt Disney World. While dancing at Disney, I got my BA at the University of Central Florida.
After graduating college I got a job in the marketing department at a local aviation museum. My job was to design print ads. My responsibilities increased to include the museum's web site where I taught myself the digital medium. I gained enough experience to venture on my own and now I work out of my home office as a freelance illustrator and Flash animator. I also have an online portfolio.
Dark Scribe: Were you a big comic book and/or cartoon lover as a kid? If so, what were some of your favorites?
Andy Bauer: No, I wasn't a big comic book fan. Comic book storylines didn't (and still don't) appeal to me. I don't enjoy the typical hero/villain dramas that are usually associated with comic books. I do appreciate the style of art but I'm attracted to bubblegum, pop or even girlie-looking art. And, I like stories that are cute, silly and fun.
Also, I wasn't a big reader as a kid. That has a lot to do with how I create each episode of The Gay Monsters. Being a visual person, I like colorful, engaging pictures to tell the story rather than many words. So, I use as few of words as possible in my strips.
I also have a short attention span, which also affects the way I create my art. When you view the strip online you'll notice that only one frame of the strip is viewable at a time. That's because when I'm faced with a full strip, I tend to skip to the last frame to read the punch line first. However, by only showing one frame, it forces the reader to take their time, enjoy the art, and enjoy the journey to the punch line.
I'm a child of the 80s so I liked cartoons such as Smurfs, Scooby-Doo, ThunderCats, Beetlejuice, The Littles, Flintstones, Jetsons, Muppet Babies, Tom & Jerry, and Bugs Bunny, to name a few.
Dark Scribe: Where did the inspiration for The Gay Monsters come from?
Andy Bauer: Actually, one little random sketch started it all. I was drawing a monster in my sketchbook for fun. I looked at it and thought, wouldn't it be funny if this little monster were gay, especially since the "monster world" seems predominantly straight?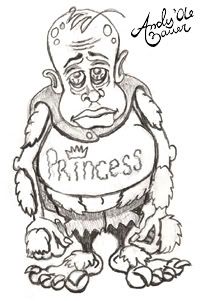 I wrote "princess" on his shirt and started laughing to myself. Naturally, I started thinking about a whole group of gay monster characters and then a whole gay underworld. The double entendres started flying around in my head. I also think a gay underworld is a great parallel to the real life gay community.
Everything just started falling in to place. It then became obvious to me that The Gay Monsters' time had come. Plus, I love all things that are kooky-spooky. And this was the perfect creative outlet for my colorful, gay, kooky-spooky style.
Dark Scribe: Walk us through the process in bringing an episode of The Gay Monsters to the web.
Andy Bauer: First, I write the joke for the strip. I usually jot down a few ideas and then sit on it for a day before coming back to it and punching it up some. Then, I pencil sketch the characters and layout the placement of the text. One panel takes anywhere from a half hour to 2 hours depending on how particular I'm being. Sometimes I draw several options for one panel if I don't like how the previous drawing came out.
Next, I scan my sketches into the computer and import them into Adobe Flash. This only takes about 10 minutes, sometimes less. In Flash, I then ink, color and shade my sketch by tracing over it with my graphics tablet. (This is the inking process for those non-digital artists.) This takes the most amount of time. One complete panel can take 3 or 4 hours.
Then, I add the background. I do this last because it usually develops in my mind as the strip starts to come to life. The first four steps outlined above apply for the creation of the background as well. The background is often reused and can be manipulated to fit the scene, which I consider yet another perk to using digital versus other fine art or traditional art mediums.
Finally, I upload the finished episode to the site. I have the site set-up so that I just have to change one line of code in the main Flash file and then the newest episode is automatically loaded into the pumpkin vine border you see on the main page. It took some time to set it up that way but well worth the effort in the end.
As you see, the designing process is very similar to the traditional methods. Digital simply uses the computer instead of ink. Just like any art medium such as paints, watercolors, pencils, etc. the digital medium requires quite a bit of learning. The Internet is an excellent resource. It benefits any digital artist to know numerous graphic programs and to learn how to publish to the web.
I think a lot of digital designers go wrong when they let the computer do the work for them. Digital art is only as good as the artist behind the computer. I say the only difference between a paintbrush and a computer is, on a computer, you have a backspace button in case you make a mistake. Being able to fix mistakes so easily is a lot less frustrating for me.
Dark Scribe: Which of the monsters is your favorite to draw and write for and why?
Andy Bauer: I don't have a favorite monster to draw. I spent a lot of time developing each character so I love them equally. They're all very much a part of me.
Dark Scribe: Are any of the characters that populate The Gay Monsters based on people in your own life – friends, family? If so, can they spot the likeness – and what is their reaction to it?
Andy Bauer: I've had quite a few people tell me that they think they're most like one of the characters. I think everyone can relate to at least one of the eight ghouls, and that was my goal. So, in a sense, the comic does reflect all people in my life and I use their most extreme personas and experiences and embellish on those to give each Gay Monster colorful, unique traits. But no monster is exactly like any one person I know.
This is how the characters where developed: As you probably know, the classic monster line-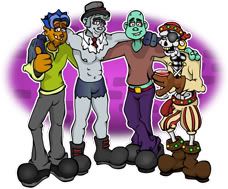 up is Dracula, Frankenstein, the Mummy, the Wolfman, the zombie, the witch, and the skeleton. I wanted The Gay Monsters to resemble that classic cast of characters with the difference being that they are gay. Plus, with the title "The Gay Monsters", I feel people expect and look forward to seeing something familiar. I wanted to deliver and exceed their expectations. So, I started developing the characters adding my own artistic style, which I describe as cute, kooky-spooky, eye-candy.
Each character's personality is based off of several gay stereotypes. I wanted people to be able to identify with at least one of the characters or in any case know someone like one of the characters. I wanted to perpetuate the stereotypes rather than dispel them. Because, after all, it is a comic. It's supposed to be over-exaggerated. That's what makes it funny.
Dark Scribe: What has the audience reaction been?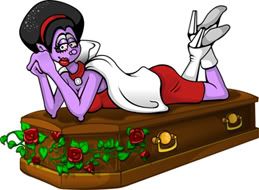 Andy Bauer: I've had an overwhelming and positive response to The Gay Monsters especially considering I officially launched in January of 2007.
I don't have an accurate count on the fan base demographics. What I do have is an option for people to sign-up to receive the latest episode in their email. Based on first names only, I would say it's about 60% male to 40% female. That's a very rough estimate however.
What I can tell you is that I have two MySpace pages. One MySpace page is for myself and one is for The Gay Monsters. Based on the friend requests, emails, and messages I receive on both pages, the feedback has been 99.8% positive from both males and females, both gay and straight. The MySpace users' demographic alone is quite specific. I would imagine it's mostly young computer owners. But I've found that MySpace has brought a wide range of people from gay and straight men to lesbian and straight women of all ages. The comments I get are like, "I love The Gay Monsters !" or "I can't wait to see more!" or "Can you draw me as a Gay Monster?" Every comment I receive is so appreciated and it means a lot to me that someone has taken the time to tell me how they feel. All the support encourages me to work even harder at making the comic the best it can be.
I think word-of-mouth has been the most effective marketing tool. Besides MySpace pages, I've also marketed The Gay Monsters by offering reciprocal links on other related sites. I've posted episodes in forums and similar MySpace websites. Bloggers have been a big asset for me as well.
I created the comic for people like myself in mind - gay men. In spite of the vast demographics of the readers, the comic is
still going to represent the gay community and celebrate diversity. So, whoever wants to escape into a silly fantasy world of outlandish gay characters is welcome to climb aboard.
I've had maybe 4 or 5 negative reactions. One person said that they didn't understand why there had to be a "gay everything". Another person said they couldn't tell if I was making fun of gay people or not. Another person was upset that I was perpetuating the stereotype that gay men were "all about sex". But, it's impossible to please everyone. Really this creation is a selfish venture and I aim to only please myself. It's something that I would like to see and read. In the meantime, if other people enjoy it, then great! I feel very lucky because it appears that a lot of people enjoy it as much as I do and have embraced The Gay Monsters.
Dark Scribe: Comics and cartoons are known for sometimes exploring some weighty themes. What are some of the themes you have or hope to explore with The Gay Monsters as our guide?
Andy Bauer: The lesson to be learned is you can't choose who you love. Xander, our protagonist, is in love with a living man. His other ghoulish friends don't understand his obsession. So, they continually try to set him up on dates with other gay monsters. (The first 13 episodes are about introducing the main 8 characters.)
It can apply to more than homosexual relationships. Other "taboo" relationships, such as interracial, can benefit from the comic. One crazy date with a random gay monster after another still doesn't change Xander's feeling for, what he thinks is, his true love. Does Xander ever get to be with his one and only? In time, the journey will divulge the answer.
The story doesn't necessarily continue from episode to episode. I want people to be able to pick up from the beginning, middle or end and still understand what's going on. That way, the readers' investment is minimal. I use Garfield as an example. Basically, you know the cat is lazy and loves lasagna. That's all you really need to know. The Gay Monsters are the same. All you need to know is that Xander pines for an unattainable love from a living man and his friends don't understand. Of course, the more you read, the better you understand the characters, but it's not necessary to get the one-liner jokes. Again, it boils down to what I like to see and read. As a reader, I don't like to have to invest a lot into a comic and, if I miss an episode or two, I still feel part of it.
It's really just an outlet for people to laugh and hopefully recognize some part of the gay underworld that connects with their own world and maybe be able to laugh at themselves. It's about saying it's OK to be you. It's OK to be gay. And it's OK to love who you want to love. The comic doesn't poke fun at gay people rather it celebrates and encourages individuality. The bottom line is I'm not trying to save the world with this comic. It's a "feel good" piece. I just hope that the mere presence of the comic will promote tolerance as well as encourage people to open their minds. Each generation is desensitized the more they're exposed to the gay community. Besides, the closet is no place for a monster.
Dark Scribe: You also spent some time working as a performance artist. Did those performance experiences shape your work as an animator? If so, how?
Andy Bauer: No, I don't work as a dancer any longer but I do still dance. For my 30 th Birthday, my partner converted our garage into a dance studio. It was one of the sweetest things anyone has ever done for me. So, I dance in my private studio. My dancer friends come over and we choreograph for fun. We put on a mini-show at our annual Halloween and Christmas parties. It's a lot of fun.
Yes, studying dance and working as a professional dancer has definitely benefited my work as an illustrator and animator. I feel like I'm better at visualizing action in my characters' poses because animating is similar to choreographing. When choreographing, I visualize the movement and recreate it with my body. I apply the same technique to drawing but I recreate it with my fine art medium, the computer.
Dark Scribe: Which artist, animators, and cartoonists do you admire and draw inspiration from?
Andy Bauer: There are a lot of artists I admire, look up to, and draw inspiration from. There are way too many to list. A few artists whom I adore include Theo Bain, Glen Hanson, Erwin Haya, Mark Julien, David Tremas, Joe Phillips, Patrick Fillion, Ismael Alvarez, JC Etheredge, Chris Georgenes, James Farr, and Chris DeCarlo.
Dark Scribe: What's life like for Andy when not animating?



What's that in Xander's hands? Special thanks to Andy for this original design!
Andy Bauer: Most of my time is spent in front of the computer working. But, when I'm not working, I like to spend time with my partner, Dave, and our two dogs. We like to be outside either landscaping the yard or hosting friends by the pool with some adult beverages. On a typical weekday we like to workout together and have dinner. Then, I'm back to drawing or working on something and he's around fixing or redecorating some part of the house. He's an excellent carpenter and decorator. We don't really watch a lot of movies or TV. Just every once in a while. We're both pretty career and goal oriented right now.
Dark Scribe: What are some future projects you're working on?
Andy Bauer: Well, another personal venture I'm trying to launch is an electronic greetings site for the gay community called www.EGayGreetings.com. It's just a matter of time. Being a one-man-band is tough since I'm trying to juggle my commissioned work that pays the bills plus maintain a web comic and develop animated greeting cards. Ideally, EGayGreetings.com would pay the bills and the rest of my time would be spent with The Gay Monsters.
Dark Scribe: Any plans for taking The Gay Monsters beyond the Internet?
Andy Bauer: I'm working on The Gay Monsters' first book. The working title is "The Gay Monsters – Scared Straight For Way Too Long". It's a side-splitting look back at how these beloved gay ghouls came out of the closet. Each monster spills all about their first time. You'll be engrossed by every gruesome and hilarious detail. It'll be a "must have" for any Gay Monsters fans.
I'm also conjuring up some exclusive The Gay Monsters graphics for apparel due to several requests for t-shirts, buttons and such. In the long run I'm aiming for a feature animation. It would definitely have to be a musical. And, of course, will be created in Flash!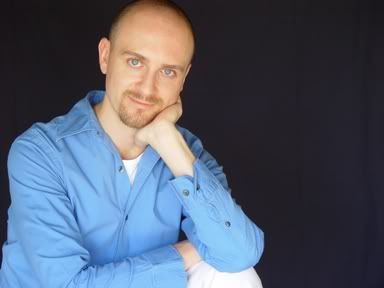 Dark Scribe: Last question. Are those your actual blue eyes – or are they part of your animation?
Andy Bauer: [blushes] Yes, these are my actual blue eyes. My brother and sister have the same blue eyes. I guess it just runs in the family. My eyes get a lot more attention when I wear a blue shirt or I'm facing the light. Good lighting is everything!
For more on Andy Bauer and the hilarious Gay Monsters that populate his artistic closet, click on the banner below or visit them at MySpace.
Photos (blue shirt): Eric Esteban
All illustrations provided by and copyright of Andy Bauer.
Unauthorized use or duplication prohibited.
Posted
on Saturday, October 6, 2007 at 11:29AM
by

Dark Scribe Magazine
in Artists
|

Post a Comment