By, Vince A. Liaguno
From the barrier islands of the Outer Banks to the dusty mining towns of the southern Rockies, thriller writer Blake Crouch is something of a literary nomad. On the horror map, the southwestern setting of his latest novel, Abandon (St. Martin's Press), is geographically closer to the works of Bentley Little than, say, Stephen King's sinister suburbs of Maine or the black magic-infused French Quarter of Anne Rice's earlier works. But make no mistake — he'll go wherever his stories take him on his trip through the literary Travel Channel.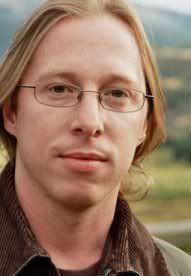 Crouch was born in 1978 near the piedmont town of Statesville, North Carolina. He attended the University of North Carolina at Chapel Hill and graduated Phi Beta Kappa in 2000 with degrees in English and Creative Writing. In 2003, Crouch and wife Rebecca – longtime backpackers, mountain climbers, and outdoor aficionados – pulled up stakes and traded in the Blue Ridge Mountains for the San Juans, taking up residence in the small town of Durango, Colorado. The move to the southwest – which was chosen at random, sight-unseen, a move Crouch admitted in a 2005 interview with The New London Day wasn't "the most logical way to find a home" – would prove to be auspicious.
Having penned two well-received thrillers set in his native North Carolina – 2004's Desert Places and its sequel, 2005's Locked Doors, which both featured fictional mystery writer Andrew Z. Thomas and a psychotic serial killer named Luther Kite – Durango proved to fertile ground for his latest novel. Set in the fictional remote mining town of the title, Abandon features an ambitious dual narrative in which past and present converge for a group of explorers hoping to learn the fate of the settlement and its inhabitants more than a century earlier.
Dark Scribe Magazine caught up with Crouch – who has just finished his fourth novel and is considering a third book in the Andrew Thomas series – in between stops on his book tour in support of Abandon.
Dark Scribe Magazine: Tell us about Abandon.
Blake Crouch: Abandon is about a mining town of the same name high in the mountains of Colorado that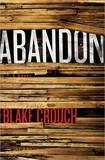 vanishes on Christmas Day in 1893. The book interweaves two stories set on the same piece of ground. One [story] traces the last 24 hours leading up to the vanishing of Abandon in 1893, and the second occurs in the present when a group hikes into the backcountry to explore the ruins of the ghost town and try to find out what happened.
Dark Scribe: What inspired you to want to make the Old West a backdrop for this novel?
Blake Crouch: I've always been a huge fan of westerns and wanted to write one, but of course, my fiction sensibilities run more toward horror and thrillers. So when the idea for Abandon came to me, I realized it was a great opportunity to write a western that felt like a thriller.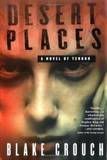 Dark Scribe: Your first two novels – 2004's Desert Places and 2005's Locked Doors – were both set in North Carolina. Why did you move the setting of Abandon to the Southwest?
Blake Crouch: I moved to Durango, Colorado a few years ago, and I was immediately inspired by the San Juan Mountains which are quite different from the Appalachians where I grew up. They're so rugged and unforgiving and spectacular, I just had to write about them.
Dark Scribe: The geographical setting of your books seems important to the stories you are trying to tell. Do you envision becoming known for a particular region (i.e. Anne Rice/New Orleans, Stephen King/Maine) – or do you envision a more fictionally nomadic career? If so, which region do you think you'll end up being connected to as a writer?
Blake Crouch: Wow, interesting question. Geography is very important to me, and I'm not completely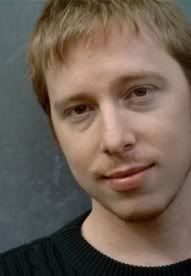 sure why, but no, I don't want to be known for writing about a certain region. I love the way you put it — I'll very likely be fictionally nomadic for my career, but where I set my stories will always be very important to the stories themselves, because I do think geography plays a huge part in who we are, the choices we make.
Dark Scribe: What was your research methodology like for Abandon?
Blake Crouch: Brutal. I read a ton of books on the history of mining in southwest Colorado and really tried to invent a feasible approach to the way people might have talked in 1893. I also spent a lot of time up in the mountains, getting a feel for the landscape, because it was important to me that people reading Abandon would have a sense of what it was like to be in the mountains near where I live. I also spent a night in a ghost town called Animas Forks which was a little scary. You can really feel the history in these old, abandoned buildings.
Dark Scribe: How difficult was it moving back and forth between past and present while writing Abandon? Did you write the book chronologically or did you write one entire time period first? How did you keep voice, dialogue, and the other myriad narrative elements straight both in your head on and the page while you were writing?
Blake Crouch: I wrote it just like you read it, going back and forth between past and present. It was very difficult, particularly in the beginning because the tone differs between time periods. But I did it this way because I wanted to make sure that when I changed from one century to the next, it was the most opportune time and at a point of the greatest tension. I was afraid I wouldn't accomplish that if I wrote one storyline beginning to end, and then the other. I needed the two stories to feel linked, even though they occur 113 years apart. Writing this way also helped me to pick up the parallels between the two time periods that really tie the stories together and make this book ultimately cohesive. In terms of keeping the characters and multiple narratives straight, I had a pretty thorough outline starting out – which changed drastically as I wrote – and a detailed set of character studies which kept the characters fresh, separate, and vivid the whole way through.
Dark Scribe: Were there any Abandon characters that can more easily than others? Who was your favorite to write?
Blake Crouch: Joss Maddox, the murderous, black widow barkeep from
1893 was my favorite to write. Loved her voice, her past, her passion. She was a deeply-wounded, angry, dangerous person who wanted to do good, and I really enjoyed exploring those opposing sides of her personality. She probably could have carried an entire book, and I'm sad I won't get to write about her again. Incidentally, she is based on a real person — Bronco Lou, a bartender in Silverton, Colorado in the 1880s.
Dark Scribe: Besides setting, how does Abandon most differ from your two previous efforts?
Blake Crouch: I think it's a much richer read. The plotting is more intricate, the characters more numerous and developed, and believe it or not, the violence isn't as prominent. My first two books (and don't get me wrong, I love this about them) are totally in your face in terms of the violence on the page.
Dark Scribe: Thriller, horror, suspense – how important are labels in genre fiction? Have you found any of them particularly limiting or liberating?
Blake Crouch: I don't really think about labels when I'm writing, although after the fact, it's interesting to consider where it falls. Abandon, for instance, might tread some new – or at least scarcely-traveled ground – in terms of being a western gothic/horror novel.
Dark Scribe: Who are your own literary inspirations? And which works shaped your own style and voice?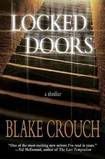 Blake Crouch: My taste is pretty eclectic... Cormac McCarthy, William Kennedy, C.S. Lewis, J.R.R. Tolkien, Thomas Harris, Dennis Lehane, James Lee Burke, Jonathan Lethem, J.D. Salinger, Bill Bryson, Pat Conroy, Walker Percy, John Kennedy Toole, Tony Earley, Jack Ketchum, David Morrell, Edward Abbey, to name a few. I know I'm late to the game, but I'm just getting into F. Paul Wilson, and I really dig his stuff. I'm also blessed to count as friends some crime fiction novelists who I really admire…Marcus Sakey has a new one just out called The Amateurs which is phenomenal. He's a great talent. Scott Phillips' and Gregg Hurwitz's stuff blows me away. Michael Koryta is scary-good, and J.A. Konrath (aka Jack Kilborn) this year published one of the best horror novels I've ever read called Afraid.
Dark Scribe: What are you working on now? What can readers expect next from Blake Crouch?
Blake Crouch: My next one is finished. It's called Snowbound and should be out next spring or summer. This one is just pedal-to-the-metal fun about human trafficking, set in the desert Southwest and Alaska.
For more information about Blake Crouch, visit his official author website.
Posted
on Monday, October 12, 2009 at 05:19PM
by

Dark Scribe Magazine
in Authors
|

Post a Comment