Winner: Congratulations to M. Ashwell of Houston, Texas, who was chosen at random as our winning entry! Thank you to all who entered.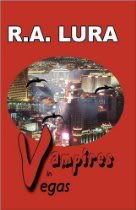 Amongst the hustle and bustle of glittery Fremont Street, in the modern day city of Las Vegas, exists an 18th century vampire's den. But this is no ordinary vampire den; it houses vampires who are able to walk, undetected, amongst humans in the light of day. They accomplish this by absorbing human DNA when consuming their flesh; something that took centuries to perfect. Why would they go through the excruciating ordeal of mutating their bodies? Could walking in the daylight be that important? Not really, but getting the approval and admiration of the great Count Dracula is. The leader of the den is the bastard son of Count Dracula who is obsessed with his need to stand out as special in Dracula's eyes. What better way than to master the ability to be immune to the rays of the sun?
In order to provide a continuous supply of only the purest source of flesh, while keeping a low profile, the vampires breed their own humans. They get their supply of breeders by participating in a slave and prostitution trafficking business; abducting immigrants who are smuggling themselves into the country and whose absences are not as likely to be reported to the authorities and keeping the most desirable of these captives as breeders for food. But when they capture the childhood friend and bride-to-be of a martial arts master, it just may be the beginning of their end!
Filled with martial arts action, Vampires in Vegas by R. A. Lura puts a new twist on that age-old creature of lore, the vampire. One of the first titles by new publisher Raular Publishing, Vampires in Vegas promises to entertain both vampire fans and martial arts fans alike.
DSM is giving away an autographed copy of Vampires in Vegas, courtesy of Raular Publishing. To enter, simply send an email to DarkScribePress(at)AOL(dot)com with VAMPIRES IN VEGAS in the subject line. One lucky entry will be chosen at random.
This contest has now ended.
Posted
on Sunday, March 1, 2009 at 06:50AM
by

Dark Scribe Magazine
| Comments Off