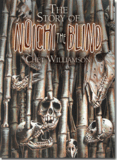 Cemetery Dance / November 2007
Reviewed by: Martel Sardina
In the introduction to The Story of Noichi the Blind, Chet Williamson leads readers to believe that the work they are about to read could be a lost manuscript of Lafcadio Hearn (a/k/a Koizumi Yakumo,) a late nineteenth century author, who is best known for his collections of Japan legends and ghost stories. Determining whether it is or isn't is half the fun in this literary game of fact or fiction.
The tale of how Williamson came to be in possession of said manuscript is believable. Williamson discusses the process he went through to verify the authenticity of the manuscript. While he can't provide a definitive answer, Williamson promises that the Afterword penned by one Dr. Alan Drew, Ph.D. will "shine more light on the question of authorship for the curious reader." Perhaps. Perhaps not.
Noichi, a woodcutter, lives a meager existence. He befriends forest animals, great and small. One day, he discovers an injured woman the road. Noichi recognizes Noriko, a woman who works for one of his customers. In town, Noichi heard that Noriko murdered a Samurai captain and knows she is in great danger. When he learns the truth of what happened to Noriko, Noichi takes her in, promising to protect her from the Samurai. They eventually marry and live a happy, simple life in the hills above town.
Noriko falls ill and when Noichi's herbal remedies fail to cure her, he is forced to seek the aid of a doctor. He knows bringing a doctor in is a risk, since Noriko is a fugitive. Noichi cannot bear the thought of losing Noriko. It is a risk he has to take.
Until this point, the tale is a beautifully rendered love story. There is some graphic violence related to Noriko's encounter with the Samurai captain. But the reader is able to overcome the shock because of the compassion Noichi shows Noriko afterward. As their relationship progresses, it is easy to get caught up in the love story, thus making what is to come more tragic.
The aftermath of the doctor's visit reminds this reviewer of her introduction to Japanese horror, which started with Takashi Miike's film, Visitor Q. Sensitive readers who find graphic violence and taboo subjects, such as necrophilia, offensive are hereby warned to steer clear of this novella and Miike's films as well. But those who enjoy black comedy and other perversions will delight in what the rest of The Story of Noichi the Blind has to offer.
Dr. Alan Drew, Ph.D., does offer insight into the similarities between The Story of Noichi the Blind and Hearn's other tales. Is Williamson's find an authentic lost Hearn treasure? Are Williamson and Drew really qualified to make that determination? Is Drew just a fictional pawn in Williamson's literary game? In this reviewer's opinion, it doesn't matter. What does matter is that Williamson takes readers to place they've never been before. In the grand scheme of things, it's all about the journey, not the final destination.
Purchase The Story of Noichi the Blind by Chet Williamson.
Posted
on Sunday, May 25, 2008 at 08:06AM
by

Dark Scribe Magazine
in Small Press Chills
| Comments Off

View Printer Friendly Version

Email Article to Friend