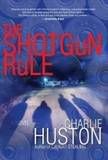 Ballantine Books / August 2007
Reviewed by: Martel Sardina
The Shotgun Rule is a coming of age story about four friends who are forced to grow up fast when faced with the consequences of making a bad decision. Brothers Andy and George Whelan have spent the summer of 1983 doing what most teenage boys normally do, riding their bikes and hanging out with their friends, Paul and Hector.
When Andy's bike is stolen by one of the Arroyo brothers, George, Paul and Hector have to help him get it back. While Andy is in the same grade as the other boys, that is due to being skipped ahead twice. He is younger, smaller and weaker than the others and no match for the Arroyo brothers, who range from schoolyard bullies to hardened ex-cons.
After a nasty confrontation, the boys decide that the only way to get Andy's bike back is to break into the Arroyos' house and retrieve it. The group isn't surprised by the discovery of a bicycle chop shop but when they realize that the Arroyos are involved in manufacturing crank, they decide to exact their own revenge. They steal some of the Arroyos stash of drugs and other stolen goods and then make an anonymous call to the police to tip them off about the crank lab. It's self-preservation, after all; the Arroyos will know who robbed them, and the only way to save themselves is to rat the Arroyos out. It seems like a perfect plan.
Unfortunately, this plan is not perfect. The boys' decision has repercussions that they could never have imagined. The boys have unleashed bigger villains and unearthed family secrets their parents had fought hard to protect them from. The question now is: is it too late for redemption?
Charlie Huston weaves a hard-hitting tale revealing candid truths about the relationships of fathers and sons, brothers, and friends.
Take for example this passage where George reflects on being a brother:
Fucking Andy!

George rides hard, trying to find his brother.

Sometimes? Sometimes, man, he just wishes he didn't have a brother at all. How much easier would that make life?

Fifteen years since the little shit was born, and he's been underfoot every single day of every single year. Always such a baby. Such a crybaby. From the moment Mom came home from the hospital with him he was crying. God! The years of sharing a room with him after he was too old to sleep in mom and dad's room but before dad put in the attic room, was there anything worse than that? Six years old and the kid was always waking up with nightmares, crying.
Or this passage where Bob (Andy and George's father) reflects on his family and his life:
Nine days out of ten it's more fun to butt heads with George than it is to try and figure out what Andy is talking about. Pick him up from school on a rainy day, he's chattering about some theory of how the universe is all made of empty space, how everything solid is mostly just air. Or not even air. Made of just nothing. Made of the chance that something might be in all the nothing. Or some shit like that. A little kid with stuff like that in his head. Still, it's better than when he starts in on Dungeons & Dragons. Might as well be speaking in tongues…None of it in the cards. Thirty five. A woman like this. Sons like these.

They'd been taking bets on him fifteen years ago, most people who knew a thing about him would have had theirs on prison or a coffin. And it would've been safe money.
Huston's dialogue is intense, cutting to the quick, and leaves the reader reeling with the characters as the story unfolds. Huston doesn't have to impress the reader with an exotic locale. Suburban Northern California is rendered beautifully, showcasing the fact that evil lurks in ordinary places. Small town America is not safe from the problems that many believe only exist in big cities.
Huston is the author of the Henry Thompson trilogy as well as the Joe Pitt novels. The Shotgun Rule is his first stand-alone thriller. Stephen King called the novel "Stand By Me on Dexedrine." Readers will find that Huston has earned his place as one of the most compelling voices in crime fiction today.
Posted
on Thursday, December 6, 2007 at 09:36AM
by

Dark Scribe Magazine
in Book Reviews
| Comments Off

View Printer Friendly Version

Email Article to Friend