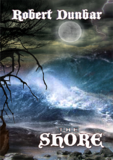 Delirium Books / August 2007
Reviewed by: Shannon Riley
With his latest novel, The Shore, dark suspense master Robert Dunbar transports us from the sweltering New Jersey Pine Barrens, setting of his horror classic, The Pines, to the frigid oceanfront village of Edgeharbor, a dying tourist town caught in the grip of terror. A series of brutal unsolved murders bring a mysterious stranger into town in search of a boy who may be a monster or whose kind may be the hope of the future.
As a devastating storm breaks its wrath upon this isolated community, the elements themselves become an opponent as the stranger and a lone policewoman struggle to find a hostage girl who may well become the next victim.
Dunbar, a noted authority on folklore and legend, creates an intense and all too believable canvas on which to paint this tale of mounting terror and desperation. Here nothing is what it seems, and as revelations link the evil taking hold of Edgeharbor to murders from the past, the chilling connection to the Pine Barrens' murders becomes apparent. While not a sequel in the truest sense of the word, The Shore enriches the story introduced in Dunbar's previous novel, and sheds new light on the centuries old legend of the infamous Jersey Devil.
Impeccably crafted, with precise and elegant prose, meticulous attention to detail and pacing, this intense and wholly original novel is one of the best to come out of the horror genre in years. It left me breathless.
The Shore sets a new genre standard. This is horror at its best.
Purchase Robert Dunbar's The Shore.
Posted
on Thursday, November 15, 2007 at 09:55AM
by

Dark Scribe Magazine
in Small Press Chills
| Comments Off

View Printer Friendly Version

Email Article to Friend