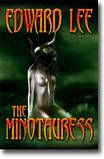 Necro Publications / January 2008
Reviewed by: Jeff Burk
Hardcore horror king Edward Lee is back with another small press offering, and it's a doozy. This winter, Necro Publications is releasing The Minotauress, a new full-length novel packaged with the rare novella The Horn-Cranker. Fans will be pleased to know that Lee's latest offering is of the same caliber as the cult-classic The Bighead and The Pig.
When a local occultist travels to Spain, Dicky Caudill and Tritt Balls Conner, two redneck moonshine runners, decide to clean out the old man for all he's worth. The plan goes awry as they encounter a very foul prostitute, a pompous writer, a serial killer, and something suitably horrifying called the Spermatogoyle . Starting from the opening pages, the novel never relents in its visceral assault on the reader. Through all the horror, the book has an overriding sick sense of fun – so much so that the reader can almost picture Lee giggling with demented glee as he wrote the book's many grotesque set pieces.
The long time Edward Lee fan will find many surprises scattered throughout The Minotauress. Characters and events from The Bighead, Mr. Torso, and Gast pop in and out for some very amusing inside jokes. The new reader needn't be put off by this as none of these references are vital to the story and serve only as a bonus wink to longtime fans. In fact, with its combination of monsters, the occult, deranged rednecks, and metaphysical rants, this may be the very best book for the Edward Lee newcomer to whet their appetite for the author's many extreme themes.
As a bonus, the reader also gets The Horn-Cranker, the dark novella prequel (which appeared well before Minotauress in the 2002 novella collection Sex, Drugs, & Power Tools) about a redneck who moves to Seattle and becomes the antithesis of what he once was. When bodies start turning up in his hometown, he travels back to take care of the family and put his championship horn-cranking skills to use. Especially following The Minotauress, The Horn-Cranker is a weaker offering. While Lee frequently uses humor in his work, The Horn-Cranker is almost all humor. Lee's unique style does not fit a strictly comedic piece, and many of the literary gags here fall flat.
While his past several novels have been enjoyable, The Minotauress recaptures the sheer excitement and fun of Lee's early works. Quite simply, this among the best books he has ever written. Fans of extreme horror need this book. For anyone who has been curious about the gruesome delights of Edward Lee, The Minotauress is the perfect starting point. Like an overdose of South Park and Halloween candy, The Minotauress is sure to keep you giggling and gagging long into the night.
Purchase Edward Lee's The Minotauress.
Posted
on Monday, December 17, 2007 at 08:24AM
by

Dark Scribe Magazine
in Small Press Chills
| Comments Off

View Printer Friendly Version

Email Article to Friend