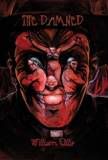 Bloodletting Press (Morning Star) / Fall 2008
Reviewed by: Michele Lee
There's a lot of story in The Damned by William Ollie. It starts with Scott, who has just been fired from his job for an essentially trivial reason and is driving home to his wife. Unfortunately, on the way home, he causes an accident that ends with him becoming the victim of a road rage shooting.
Taking a bullet to the head is the least of Scott's worries as his own brush with death coincides with a strange event that just might be the Biblical end of the world. Scott wakes up, seven weeks later, in a hospital filled with corpses, in a world gone literally to hell. Scott has to find a way to survive, while having to come to terms with the idea that everyone he meets is someone left behind, unworthy of God's grace.
The Damned doesn't try to comment on religious issues. Other than the basic premise, God doesn't come up much. Perhaps that's a reflection of the book's world, which is the epitome of a godless world.
While filled with brutal atrocities, The Damned isn't interested in building a world of gross-outs that increase in intensity. After the initial shock (to both the reader and to Scott) of the newfound horror of the world, the book moves on, maintaining a respectable level of violence, action, and blood, but turning to an interesting and conflicted story.
The most intriguing aspect of The Damned is how Ollie establishes at the beginning that every character the reader meets has either done something evil, or is truly evil, including the "hero" Scott. We know his evil from the outset, and through the story we learn (sometimes too late) of others' evil. Ollie does a fantastic job of making the reader almost forget the wickedness of his characters. Even the most evil of them all, the nasty gang leader and area terrorist Dub, has his moments of being cast as a would-be hero.
This conflict, created largely in the reader's mind as we wonder who, if anyone, we should cheer for, sets this book apart from others on the shelf.
The pacing, while not breakneck, is steady. The plot, despite its focus on mere survival at times, ties up nicely and prepares to jump forward into interesting new areas, leaving the end both satisfying and open to further volumes. The Damned is a solid, interesting debut novel.
Pre-order The Damned by William Ollie.
Posted
on Sunday, September 21, 2008 at 09:50AM
by

Dark Scribe Magazine
in Small Press Chills
| Comments Off

View Printer Friendly Version

Email Article to Friend