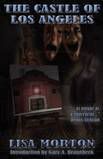 Gray Friar Press / January 2010
Reviewed by: Vince A. Liaguno
A haunted theater, Jewish mysticism, and a serial killer with a penchant for prostitutes are the unlikely ingredients in three-time Bram Stoker Award-winner Lisa Morton's thoroughly satisfying debut novel. With the precision of master dark scribes boasting far more titles in their back catalogs, Morton deftly crafts a genuinely spine-tingling spooker, an homage to the haunted house tale that shrewdly never falls prey to the clichéd trappings of this familiar sub-genre.
Beth Ortiz is an up-and-coming playwright who lands a gig as theater director of the Lofty Repertory Company, a small theater housed within The Castle, an exclusive artist's community nestled amidst industrialized Los Angeles. With the discovery of an old scrapbook, she quickly learns that the building has a long-standing history of madness and murder, having once housed everything from a dairy processing plant, to an insane asylum for celebrities, to a government-owned morgue for servicemen killed in World War II. Lots of backdrops for lots of restless spirits.
A random meeting of a teenage prostitute named Linda and the discovery of an old news clipping about a serial killer named John Randall Kinney – a 19th century farmer with a predilection for turning hookers into corn mulch – inspires Beth's first production as theater director at The Castle. As her play about prostitutes in peril begins to take shape, life begins to mirror art. Thrown into the mix are an eclectic cast of characters – including a renowned, Kabbalah-loving artist who shares the penthouse with her gay rentboy/personal assistant, a struggling Asian filmmaker who's also The Castle's resident history buff, Beth's best friend, Miki, an actress, and Eric, Beth's unrequited love and former proprietor of the theater space.
When all these unlikely threads converge, the result is traditional horror at its best. Morton nails her haunted house tale here – remaining true to its conventions while infusing it with a modern sensibility. As a ghost story, there is an authenticity to The Castle of Los Angeles that will ring true to any fan of the haunted house sub-genre. But where Castle excels is in the modern spin Morton gives it and her ability to blend elements that, on the surface, seem disparate – Kabbalah, theater production, the grittiness of teenage prostitution, even references to Asian cinema. In fact, when Morton first takes the reader from the confined creepiness of The Castle's interior to the sweeping seediness of the downtown ghetto where syringes and used condoms litter the streets, there is great risk of breaking the spooky mood. But Morton is a gifted writer who knows that genuine horror lurks in any setting and she maintains her ominous atmosphere regardless of what backdrop her characters find themselves against.
The Castle of Los Angeles is a sterling example of a classic framework successfully updated, bringing it forward from the relegation of throwback into the realm of relevance. With flawed, interesting characters and a multi-layered narrative that will keep even the most jaded dark fiction reader from seeing around every corner, Morton's debut easily stands out as one of the best new books of the year.
Purchase The Castle of Los Angeles by Lisa Morton.
Posted
on Saturday, May 15, 2010 at 01:18PM
by

Dark Scribe Magazine
in Small Press Chills
| Comments Off

View Printer Friendly Version

Email Article to Friend