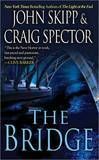 Leisure Books / May 2010
Reviewed by: Joan Turner
John Skipp and Craig Spector's gripping apocalyptic novel, The Bridge, first released by Bantam in 1991, is just as unsettling and relevant today as it was then. It is a cautionary tale that pulls no punches, an entertaining and intelligent horror novel that makes a dynamic statement about the dangers of environmental pollution. Skipp and Spector created the splatterpunk movement, co-authoring seven novels before going their separate ways. The Bridge, in a class of its own, is quite possibly their finest effort. The theme strikes a chord with many readers and its message is impossible to ignore.
In Paradise, Pennsylvania, industry is courted to bring in jobs and revenue, and government and community leaders have no problem sweeping environmental regulations under the rug in the name of progress. Warner Blake, head of the Industrial Development Authority and Emergency Management Authority, is responsible for bringing industry into the county. Harold Leonard's Paradise Waste Disposal company, the largest legitimate facility of its kind in the area, handles the chemical waste, but Harold has a problem. His company can handle only a fraction of it. He looks to Pusser's Scrap & Salvage to dispose of the excess for him, and Otis Pusser is only too happy to make money on the side by illegally dumping the county's waste products wherever he can.
Far down Toad Road, Black Bridge, a crumbling, abandoned railroad crossing, spans Codorus Creek, an illegal dumping site for the defense plants, research laboratories, factory farms, electroplate shops, paper mills and landfills. Codorus is teeming with hazardous chemicals. Late one night, Otis's son, Boonie, and Boonie's cousin Drew make their run to dump a truckload of barrels of toxic waste off the bridge, but tonight a storm is brewing both in the heavens and in the creek below. The world as they know it is about to change forever.
As Nature rebels against man's destruction, the Overmind gains control, mutating living cells, bringing inanimate objects to life and regenerating the dead with the singular purpose of destroying earth's human tormentors.
The Bridge is a riveting, fast-paced novel that is impossible to put down. The suspense builds toward the inevitable ending as likeable and all too human characters struggle against insurmountable odds. A crisis often brings out the best or worst in people, and The Bridge is no exception. Even in a catastrophe of this proportion, a few heroes exist, most notably the crew of the nuclear generating station who man their posts as the temperature continues to climb and Austin Deitz, an employee of Hazmat, the Hazardous Materials Squad. Changed but defiant, Deitz proves that even in death, love and a sense of justice survive.
The Bridge is comparable to Stephen King's dramatic novel The Stand, but unlike The Stand, The Bridge offers only one inevitable conclusion for a society that refuses to heed the warnings, and it leaves the reader with a tremendous sense of loss.
This novel is a must-read. Powerful and well-written with unforgettable characters and a terrifying premise that will haunt your dreams, The Bridge is an uncompromising nightmare ride to destruction.
Purchase The Bridge by John Skipp and Craig Spector.
Posted
on Saturday, July 31, 2010 at 04:11PM
by

Dark Scribe Magazine
in Book Reviews
| Comments Off

View Printer Friendly Version

Email Article to Friend