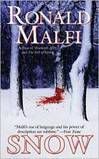 Leisure Books / March 2010
Reviewed by: Joan Turner
The setting of the small, remote and seemingly deserted town and some of the early plot developments of Ronald Malfi's new novel, Snow, may bring to mind the beginning of Stephen King's Salem's Lot — but do not be misled. The creatures here are not vampires, though just as deadly, and this completely original story holds more in common with Lovecraft's cosmic horrors than King's classic tale. Snow is a chill-a-minute thrill ride that will keep the reader spellbound until its astounding end. Ronald Malfi's fast-paced plotting, smooth prose and strong, believable characters make Snow one of the best novels to bear the Leisure imprint in some time.
Four travelers stranded by a blinding winter snowstorm at Chicago's O'Hare International Airport on Christmas Eve set out to drive across country to their holiday destinations. On a lonely stretch of road, they wreck their Jeep Cherokee attempting to avoid hitting a man in the middle of the road. The stranger claims his car has broken down and his eight-year-old daughter is lost in the snow, but when the travelers doubt his story, he flees into the woods where his daughter is waiting. With a damaged radiator, the travelers head for the nearest town, but soon discover the town is a death trap from which there seems no escape. Cut off from the outside and thrust into a struggle to survive against nightmarish entities, the travelers must use all their wit and courage to stay alive.
Ronald Malfi, author of Shamrock Alley, The Fall of Never, and Passenger, is a master of his craft. His descriptive ability and attention to detail bring credibility and immediacy to his character-driven stories. In Snow, Malfi's pacing is near flawless, the suspense building to a stunning conclusion. Snow is an impressive work that leaves the reader eager to see more from this talented writer.
Purchase Snow by Ronald Malfi.
Posted
on Friday, May 7, 2010 at 11:11AM
by

Dark Scribe Magazine
in Book Reviews
| Comments Off

View Printer Friendly Version

Email Article to Friend