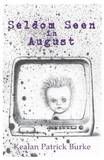 White Noise Press / April 2008
Reviewed by: Blu Gilliand
Seldom Seen In August opens like a straight-up crime drama: Wade Crawford is on the run, ducking the police after a bank robbery gone bad, trying to lose himself in a maze of typical suburban houses while sirens wail in the distance. His partner is running, too, only he went in the other direction, and has all their money in his hands.
Things aren't looking good for Wade. And they're about to start looking a whole lot worse.
He picks a house out of the generic neighborhood lineup and breaks in. The place seems empty, but Wade, ever the deliberate criminal, begins a room-by-room search, wanting to be sure he's alone before relaxing long enough to plan his next move.
He's not alone. There's a boy with a straight razor, for one thing, and many more surprises are lurking in the shadows.
To really get a feel for the ride Burke takes you on in this 39-page novella, beautifully designed and illustrated by White Noise Press chief Keith Minnion, picture him behind the wheel of your getaway car. Just when you feel like he's settled on a direction, he wrenches the wheel to the left, sending the car screaming into Twilight Zone territory. One hard right later and you're bound straight for science fiction. But like any expert driver, Burke may look like he's seconds away from a fatal crash, but he's in complete control. He's going to get you where you're going – a little bumped and bruised, a little out of breath, but exhilarated all the same.
Seldom Seen In August showcases Burke's continued growth as a writer. With every published piece, the characterizations get sharper, the themes become more complex, and the voice becomes more distinct. Burke continues to push the boundaries of his own fiction, showing more of his influences even as he refines his own style. With this short, powerful story, readers can continue to see where investment in the early stages of this writer's career are going to pay dividends for some time to come.
The softcover edition of Seldom Seen In August is sold out. For more information on White Noise Press' forthcoming lettered hardcover edition of this novella, click here.
Posted
on Saturday, May 3, 2008 at 01:50PM
by

Dark Scribe Magazine
in Small Press Chills
| Comments Off

View Printer Friendly Version

Email Article to Friend