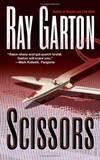 Leisure Books / January 2010
Reviewed by: Joan Turner
Horror master Ray Garton follows up the traditional terrors of his two great werewolf novels – Ravenous and Bestial – with Scissors, a novel that plunges readers into a world of supernatural and psychological horror. Stuart Mullond is a tormented man — scarred not only by his rigid and abusive childhood but from the memory of a painful and traumatic medical procedure his mother forced him to endure at eight. He awakens one night to find that Dr. Furgeson, the physician who performed the operation, has stepped out of his nightmares – scissors in hand – and is stalking Stuart's family with the intention of doing to his son what he did to him.
He begins seeing Dr. Furgeson everywhere:
"The oblong head stood well above the others, a few inches higher than Stuart's. Bald and pale and veiny. A stethoscope hung around the skinny neck and drew attention to the large, pointy Adam's apple in the throat. Small round glasses framed the deep-set eyes, which looked directly at Stuart.

There was a break in the crowd between them, and Stuart saw that Dr. Furgeson wore a long white coat. Right hand in the pocket, elbow slightly bent. The doctor removed the hand, held it up beside his grinning face. The silver scissors flashed with the dull reflection of a spinning red light atop a nearby video game.

Stuart could no longer breathe. His mouth hung loosely open.

Dr. Furgeson slowly tipped his head and turned it to the right, as if to reveal his ear to Stuart. It was an exaggerated movement, the gesture of a clown silently telling a child to listen.

Snick-snick-snick. Snick-snick-snick."
Depressed and anxious at work as he awaits the proverbial axe due to the failure of his recent project – Stuart's Owl-Man character that Carnival Greetings has used on a line of children's back-to-school supplies – Stuart can no longer focus on his job.
Stuart's lifelong dream has been to draw and paint. He created Owl-man, a superhero, in his teens. His goal had been to work in comic books and his original creation was nothing like the little cartoon character Carnival had all but stolen from him. His mother, a staunch Seventh Day Adventist, believed anything violent, sexual or supernatural was evil and the church forbade comic books. Not only had Stuart's ambition meet with stern disapproval, his mother had called in the pastor to force him to destroy his drawings. Now Stuart is again in trouble for his beloved character.
Added to Stuart's other worries, his thirteen-year-old son, James, is skipping school to hang out with three rough boys from a bad neighborhood, and Stuart's ex-wife, Molly, is too busy with her lovers to give the boy the supervision he needs. Stuart's girlfriend, Amelia, has become best friends with Molly, which leaves Stuart feeling betrayed by everyone and solely responsible for his son's welfare. He tries to reach out to his son, longing to help him, but the bleak experience of his own childhood leaves him no guideposts:
"It occurred to Stuart how easy it was to bury real problems under shovelfuls of nonsense, trivia, and small talk. What bothered him most was that he did not know what problems they were burying. To the best of his knowledge, he had done nothing to anger or hurt his son, and yet he felt a nagging guilt, as if he had. Maybe it was just James's age. He was leaving his childhood and entering unfamiliar territory, uncertain of what was expected of him. When Stuart thought back to the beginning of his teenage years, he could unearth no pleasant memories. Maybe the best he could do was to continue to let James know he was there for him and let the boy handle things his own way. But still, there was the gnawing sense that something was not right, that somewhere along the way his son had taken a wrong turn."
Soon Stuart learns just how far that wrong turn has taken James.
His son's vulnerabilities fuse together in Stuart's mind with the menacing reappearance of the doctor who caused him so much pain, and his emotional stability spirals downward. Stuart begins painting again; locking his art away from prying eyes as he once did in his youth and working on a secret project he hopes will save his son and prove to be his own retribution.
Scissors is a powerful novel on many levels. Not only is it a top-notch work of fiction with all the action, suspense, violence, and great characterization Garton is famous for producing, it is also an insightful look at the psychological ramifications of childhood abuse, trauma, and betrayal — and their effects upon the subconscious mind.
Forget the clichés. This is a true original; a story that that will connect with readers in many ways, a fast action read filled with twists and turns that will keep readers turning pages until the incredible conclusion. Undoubtedly one of Ray Garton's best, Scissors will take your breath away.
Purchase Scissors by Ray Garton.
Posted
on Monday, February 15, 2010 at 05:12PM
by

Dark Scribe Magazine
in Book Reviews
| Comments Off

View Printer Friendly Version

Email Article to Friend