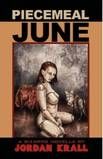 Eraserhead Press / January 2008
Reviewed by: Jeff Burk
Kevin is your average loser, living above a porn-shop with his tarot card-reading cat. In addition to divination, his cat has been bringing home latex body parts, which Kevin soon fashions into a piecemeal sex doll. Once Kevin has all the pieces glued together, the doll comes to life. Her name is June, and she is on the run from an evil pornographer.
Piecemeal June is the first novella from Jordan Krall, and Eraserhead Press has managed to snag this interesting new talent. The book is filled with grotesque imagery of perverted sexuality, yet this is no mere exercise in exploitation. Kevin is seeking real love and companionship from June, and Krall's use of a sex-doll as a representation of his emotional longing is a wonderfully clever plot device.
Krall's writing flows nicely, whether he is detailing the sex doll coming to life or crab-human hybrid assassins. The surrealism and weirdness never overwhelm the sweet sensitivity of Kevin's inner plight. This story is for the romantic in all of us, while not neglecting the part that craves gore.
Krall is an exciting new voice to arrive on the horror scene. He combines gross-out with occultism but never forgets that characters are what make a story.
Eraserhead press has consistently published cutting-edge genre works and Piecemeal June continues in this trend of excellence. If your appetite for horror lately needs satisfying, Piecemeal June is a tasty small morsel (just under 100 pages) that very well may be just what you've been craving.
Purchase Piecemeal June by Jordan Krall.
Posted
on Monday, June 23, 2008 at 09:25AM
by

Dark Scribe Magazine
in Small Press Chills
| Comments Off

View Printer Friendly Version

Email Article to Friend