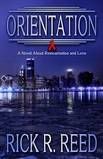 Amber Quill Press / May 2008
Reviewed by: Martel Sardina
Orientation opens with Robert's heart wrenching loss of his lover, Keith on Christmas Day 1983. Robert and Keith's whirlwind May/December romance is cut short when Keith is diagnosed with a strange new disease that some call the "gay cancer." Robert, a young idealist, is devastated not only by Keith's loss but also by accusations that his only motivation for being in a relationship with an older man was greed. While Robert did inherit Keith's estate, he would've gladly given it all up to get his soul mate back.
Now, twenty-four years later, the tables have turned and Robert is now the "Daddy" in a relationship with a much younger lover, Ethan. It is Christmas Day 2007 and Robert wonders why he continues to tolerate Ethan's erratic behavior. Ethan stands Robert up on the day when he is needed most. Despite all the years that have passed, Robert has never gotten over losing Keith.
As Robert's frustrations rise, he decides to take a late night walk along Chicago's lakefront in order to clear his head. While there, he prevents a young woman from committing suicide. He convinces the woman, Jess, to come home with him, offering her companionship and a safe place to stay until she can get her head together. While Jess is skeptical, thinking that Robert may have ulterior motives, she agrees to the proposition.
When they arrive, Robert discovers that Ethan has returned. He excuses himself to tell Ethan that Jess will be staying with them and a fight ensues. Jess realizes that Robert is a genuinely caring person, and feels terrible that she has caused the fight. Robert returns to find her gone.
Meanwhile, Ethan reacts badly to Robert's interest in Jess. His erratic behavior intensifies as he becomes a slave to his addiction to crystal meth. While Ethan knows Robert is suspicious that Ethan has been having an affair, he fears Robert would throw him out if he ever learned how bad Ethan's drug habit and promiscuous behavior had become. Should that happen, Ethan won't miss Robert but he will miss Robert's money and the lifestyle he's become accustomed to. Ethan decides that he shouldn't have to give up those benefits and that the only way he'll receive equitable treatment in the event of a break up is if Robert is dead. Ethan stands to inherit a small fortune and hatches a plan to take what he is owed.
Robert can't get Jess out of his mind, which he finds strange since he is gay. There is something familiar about Jess. He hasn't felt this comfortable around another person since Keith and hopes that he will find her again.
Jess also has similar feelings for Robert but dismisses them, as she is a lesbian and could not possibly be interested in a man. After having an unusual dream where she sees Robert as a much younger man, she decides that she must tell him.
Further exploration into the feelings that both Robert and Jess are having reveals a possible explanation that neither one is fully prepared to accept. Why did their paths cross at this stage in their lives? Did Robert really save Jess that night on the lakefront? Or has she been sent to save him?
Reed crafts a tale this reviewer would deem more of a paranormal romance, though it does have horrific moments. Reed's descriptions of the Keith's loss and Ethan's downward spiraling addiction may add enough of a psychological horror element to give fans of Reed's more traditional horror stories a reason to consider taking the plunge into a sub-genre that they might not otherwise be inclined to try.
PurchaseRick R. Reed's Orientation.
Posted
on Friday, July 4, 2008 at 09:05AM
by

Dark Scribe Magazine
in Book Reviews
| Comments Off

View Printer Friendly Version

Email Article to Friend