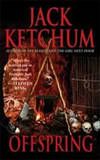 Leisure (Reprint Edition) / May 2007
Reviewed by: Shannon Riley
Jack Ketchum's Offspring is the sequel to his novel Off Season (Ballantine, 1980; Leisure's uncut mass-market paperback, 2006). In Off Season, readers met a brutal band of savages whose ancestors may have been the starving survivor of a devastating gale in the 1800s on Catbird Island, just off the coast of Maine, and her kidnapped companion. The clan grew and lived wild in the caves and forest devouring not only the animals they hunted and killed, but human victims as well.
Driven off the island, they made their way to the mainland where they lived in close proximity with civilization, cunningly preying upon unwary humans at every opportunity.
Sheriff George Peters had been instrumental in stopping the killers. He believed that he and other law officers had wiped them out, but one girl had escaped. Now in Offspring, Jack Ketchum's chilling sequel, we find this tribe of savages again terrorizing the area around the little coastal town of Dead River, Maine, and Peters, sixty-six and ailing, racing to track down their leader and her newly formed "family" and stop the slaughter before more people die.
While the plot of Offspring is quite similar to its predecessor and holds few surprises, it maintains the suspense and rapid-fire action readers loved in Off Season with more than enough gristly chills for even the most hardcore horror fan. Like much of Ketchum's fiction, the author brings so much more to the table than the violent nature of his work might suggest. His themes cut straight to the dark core of the human psyche.
Jack Ketchum, a two-time Bram Stoker Award winner for his short stories "The Box" and "Gone" and author of The Girl Next Door, Red, Hide and Seek, The Lost and many other titles, is one of the most powerful and unique voices in horror fiction today. His characters are so real we feel we know them; we understand their motivations, their strengths and weaknesses, their hopes and fears. His characterizations and delivery are nearly perfect.
Ketchum's integrity makes him unwilling to betray his vision and to conform to expectations. Behind the visceral horror lies a terrible truth about the human condition. Reading a Jack Ketchum story is like peering through the cracked, heat-glazed window into hell.
Offspring and its prequel, Off Season, comprise one of the darkest and most riveting sagas in modern fiction. Horror doesn't get any better than this.

Purchase Jack Ketchum's Offspring
Posted
on Thursday, September 13, 2007 at 11:30AM
by

Dark Scribe Magazine
in Book Reviews
|

Post a Comment

View Printer Friendly Version

Email Article to Friend