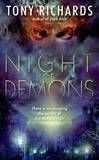 EOS (Harper Collins) / October 2009
Reviewed by: Martel Sardina
How could two people with no supernatural abilities be expected to save Raine's Landing when a twisted serial killer finds his way into town? Ex-cop Ross Devries and his sometimes partner, Cassandra Mallory, have to be wishing they knew the answer. The threat they're facing in Night of Demons, Tony Richard's second book in this dark fantasy series is a grave one. Raine's Landing is supposed to be protected from the outside world. How Cornelius Hanlon made it past the magic that keeps Raine's Landing off the map is anyone's guess. But now Hanlon's here and he's wasted no time in putting his talents to work finding his own brand of "special fun."
Richards opens the novel by giving readers a terrifying look at "The Shadow Man" – the moniker given to Hanlon after terrorizing Boston on a nearly year-long killing spree. Hanlon was a formidable opponent before finding his way to Raine's Landing. When he kills one of the town's most powerful adepts and gains control of the Wand of Dantiere, Hanlon's possession of the device gives the term "Shadow Man" a whole new meaning.
Meanwhile, Devries and Mallory have their hands full as a series of bizarre murders begin cropping up all over town. Raine's Landing is generally is quiet place, free from the troubles of the outside world. Nothing makes sense until another outsider, Lauren Brennen, the cop who has been pursuing "The Shadow Man" links Hanlon to the current crimes. Ross is grateful for Lauren's assistance; however, Cassie is put off by it. Will the trio be able to work together? Or will "The Shadow Man" find a way to pit them against each other?
As the tale unfolds, Richards successfully cross genres, giving readers elements of mystery, thrills and sheer horror. In stories like this, you are not supposed to root for the villain, but it's so hard to find a good serial killer in fiction these days. This reviewer found herself taking delight in certain lines of dialogue spoken by "The Shadow Man" and wishing that Richards had given him more time on the page.
Not having read Dark Rain puts this reviewer at a bit of a disadvantage, removing the ability to comment on how the series up to this point works on the whole. In Night of Demons, Richards provides enough backstory to ground readers in the current action and leaves out enough of the details so if you haven't read Dark Rain yet, you'll want to. And if the villain in Dark Rain is half as deliciously evil as "The Shadow Man," you won't be disappointed regardless of which book starts your journey to Raine's Landing.
Purchase Night of Demons by Tony Richards.
Posted
on Tuesday, August 24, 2010 at 07:21AM
by

Dark Scribe Magazine
in Book Reviews
| Comments Off

View Printer Friendly Version

Email Article to Friend