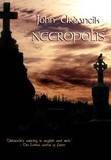 Bad Moon Books / June 2009
Reviewed by: Derek Clendening
Welcome to the "City of the Dead!" That is essentially John Urbancik's welcome to his readers in his novella Necropolis published by Bad Moon Books. Following several groups of people on a day trip to the cemetery, Urbancik seems to pose rhetorical questions and complex equations to prove that graveyards are far livelier than they seem. From the outset, one will quickly realize that Necropolis is not a hardcore gore-heavy horror story, but rather a tale that will appeal to the more intellectual dark fiction reader.
As a shorter story, Urbancik weaves a complex tale with no wasted motion, which is crucial no matter the medium, but especially working within a limited word count. Still, the narrative structure he employs within the confines of this particular medium makes Necropolis a double-edged sword. For example, the introduction of numerous characters in intricate situations might call for the story to be novel-length. Granted, the option to flesh out the tale into a novel could still be in the cards for Urbancik. It seems to this reviewer that such a story would do very well to expand upon the characters, their history and relationships, to pull the readers in even deeper. Urbancik could no doubt pull off this feat in a more skillful way than many more seasoned novelists.
In a nutshell, Necropolis epitomizes the horror genre's modern progress. If labels are necessary, the appropriate tag for this work should be "dark fiction" or "dark literary". Think Gary Braunbeck, John R. Little, Rio Youers and other likeminded authors, all part of a particular faction affixing its stamp on horror by spinning yarns that are more offbeat than bloody, more strange than gory. Necropolis is atypical despite the title and premise, and the horror is subtle but no less spine-tingling. Prose doesn't come much cleaner or more concise that what you will find within the pages of Necropolis. The story is perfectly enjoyable for the rainy day reader, just as long they understand that they will be doing more than reading. They will be partaking in an experience.
For readers with a penchant for horror stories that delve deep into the human psyche and strike a nerve, then Necropolis is the novella for you. Keep an eye out for future titles by this author; Urbancik is a name on the rise. This reviewer suspects that his name and works will come to greater prominence in the near future.
Purchase Necropolis by John Urbancik.
Posted
on Sunday, April 25, 2010 at 11:26AM
by

Dark Scribe Magazine
in Small Press Chills
| Comments Off

View Printer Friendly Version

Email Article to Friend